Coronation Street star Katie McGlynn on Sinead's cancer torment: 'She knows that this will never really leave her'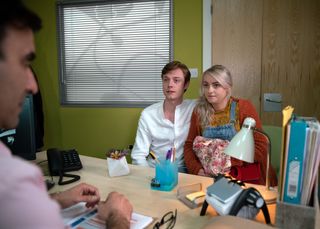 'Apart from the cancer, Daniel and Sinead have the perfect live...'
Coronation Street star Katie McGlynn has spoken about Sinead Tinker's flood of different emotions as she learns her cancer treatment results next week.
The 25-year-old actress has revealed that despite Sinead getting good news she remains scared that the cancer could come back.
The drama begins when Sinead goes to Weatherfield General with Daniel, to discover if her radiotherapy and chemotherapy treatment for cervical cancer has worked.
Sinead wants Daniel to prepare for the worst and accept the possibility that she might die and that he might have to bring up their new son, Bertie, on his own.
Desperate to hear the outcome, the pair wait nervously together to be called in to see the consultant so they can learn the news.
"Apart from the cancer, Daniel and Sinead have the perfect live - they've found someone they love and they have a child together," says Katie.
"This should be the happiest time of their lives, but they're both shaking like a leaf, wanting to know the outcome. It's awful".
MORE: Friday's Corrie sees Nick and David in court
They then get wonderful news - Sinead's tumour has shrunk and there's no sign of it spreading. You might imagine that Sinead would be elated, but Katie reveals the new mum feels quite different emotions.
Sinead expresses to Daniel her fear that the cancer could come back at anytime and how she'll never be worry free.
"She knows that this will never really leave her," says Katie.
Daniel realises how upset Sinead is and initially decides the best idea is to go on holiday. However, then he comes up with what he thinks is an even better plan. Daniel decides the time is right for them to get legally married. How will Sinead respond?
Coronation Street continues on ITV.
Get the latest updates, reviews and unmissable series to watch and more!
Thank you for signing up to Whattowatch. You will receive a verification email shortly.
There was a problem. Please refresh the page and try again.