Coronation Street star Sally Ann Matthews: I'm the new Rovers landlady... but I can't pour a pint!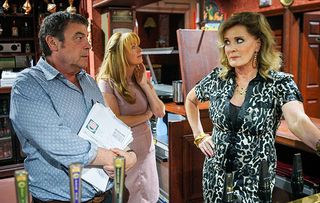 (Image credit: Andrew Boyce)
Gemma Winter's loss is Jenny Connor's gain when she and Johnny Connor buy The Rovers in Coronation Street reveals Sally Ann Matthews…
Firstly, she was supposed to be queen of the factory, secondly sunning herself on the Costa del Whatsit, so when Johnny Connor wants to buy The Rovers because hooray Henry bombs out, his missus Jenny isn't keen.
What's the story?
"Jenny loves Johnny so will do anything to make him happy. She knows he needs this project to take his mind off losing Aidan – so once she gets used to the idea, Jenny goes for it big-time and makes all kind of plans," actress Sally Anne Matthews tells Soaplife. But in the process, she breaks Gemma Winter's heart. . .
What's happening in Coronation Street? See the latest soap storylines
Coronation Street star Sally Ann Matthews chats to Soaplife about Jenny Connor being new landlady of the Rovers!
Soaplife: How did you react when you discovered that Jenny and Johnny were going to own The Rovers?
Sally Ann Matthews: "I was terrified! I'm completely inept - trying to pull a pint the other day, I got more beer on my hand than in the glass! I am getting better but would be rubbish working in a real pub."
S: Gemma thought she was going to be landlady… does Jenny feel bad about her?
SM: "Gemma's really upset and Jenny can see the hurt in her face as she knows how much the pub means to her. Gemma is heartbroken and Jenny does feel really bad but Johnny needs this more."
S: How does Jenny try to smooth things over?
SM: "Jenny offers Gemma a job, thinking this will make it all better which Gemma is not too happy about. But I am looking forward to working with Dolly-Rose Campbell, who plays her, behind the bar because it will just be chaotic and fun."
S: What sort of landlady do you think Jenny will make?
SM: "I think she will be incredibly capable because she became an expert seamstress overnight and when she sets her mind to it she can achieve anything. She wants this. A lot of people wanted her to fail when she first came back to the street so she is not about to look foolish in front of anybody. She will boss it and take no nonsense."
S: What do you think the other residents of Coronation Street will make of Jenny the landlady?
SM: "Most residents on the street have a healthy disregard for Jenny, they all think she is a nut-job. The secret is, 'Don't cross her.'"
S: What will buying the Rovers do for Johnny and Jenny's relationship, especially as they will be working with Liz McDonald?
SM: "Jenny is going into it with the intention that it's what Johnny needs and feels it would be good for their relationship to help heal from what has happened. She is able to understand and forgive all of Johnny's behaviour because of his grief. She's not delusional or naive but she is ready to move forward."
S: Do you have a favourite Coronation Street landlady?
SM: "It's got to be Bet Lynch. I joined the show in 1985 and Bet was the landlady. Then in the early '90s Jenny worked in the pub and Bet was her boss. I also loved Bet's relationship with husband Alec Gilroy."
Get the What to Watch Newsletter
The latest updates, reviews and unmissable series to watch and more!