Coronation Street fans spot HUGE blunder after Gary Windass sells builders' yard to loan shark Rick Neelan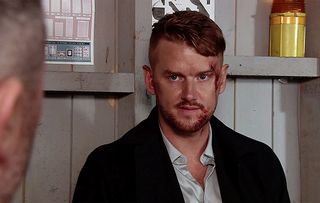 Poor Gary has lost his livelihood…
Coronation Street fans have questioned whether the ITV show suffered another gaffe after Gary Windass gave away the builders' yard to loan shark Rick Neelan – even though he doesn't own it.
In Friday night's episode, Gary came clean to Sarah Platt, revealing he was forced to hand his livelihood over to Rick after failing to pay off his £11,000 debt.
However, viewers were left confused over how Gary was able to sign the yard over, as it was never made clear whether he officially owned the business following the death of serial killer Pat Phelan.
Jason Grimshaw originally owned the yard from 2014 to 2016, but he sold the property to Pat when he decided to leave Weatherfield.
Following his death last year, Pat's wife Eileen made Gary the manager, but it was never confirmed whether he officially claimed ownership of the property.
Viewers flooded social media to question whether show writers had missed a vital piece of the storyline, as Gary wouldn't have legally been able to sign over the yard if he didn't own it.
One wrote: 'Hang on Gary - doesn't the yard belong to Jason?? Eileen's friend will take it over and hire Seb!'
Another added: 'I think Gary was only running it while [Jason] was away. Eileen will be raging.'
A third added: 'Is Gary going to remember it isn't his business and he's running it for Jason? Might want to mention to Eileen he's been to a loan shark to keep her son's business going.'
While a fourth said: 'How can Gary sign over his business when it's actually still Jason's?! #Corrie #CoronationStreet.'
Friday's mishap comes after fans were left confused during Wednesday night's episode, after questioning when Sarah learnt to drive after she was shown following Gary in a Volkswagen Golf after suspecting him of cheating.
Corrie returns Monday April 22nd at 7.30pm and 8.30pm on ITV.
Get the latest updates, reviews and unmissable series to watch and more!
Thank you for signing up to Whattowatch. You will receive a verification email shortly.
There was a problem. Please refresh the page and try again.