Couch Potato Pickings | Mean Girls and that bus accident scene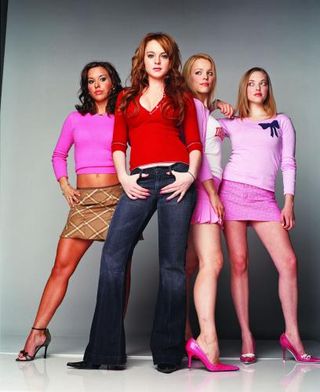 Witty, bitchy, and wonderfully well-observed, this high school movie, which is one of my faves, is apparently also one of singer/songwriter/movie star Mariah Carey's favourite films. I learned this fascinating fact the other day while thumbing through the many music channels during a session of festive vegging on my couch.
Yes, apparently Mariah's single from last year - Obsessed - was inspired by the Regina George (Rachel McAdams) character from Mean Girls, and not only begins with a line spoken by Regina in the film, but also includes a version of that unforgettable bus accident scene. You know the one - Regina storms out of school after learning of the plot to destroy her by Cady (Lindsay Lohan) and Janis Ian (Lizzy Caplan), walks into the road and and promptly gets hit by a school bus. Wham!
Final Destination http://youtube.com/v/7jt2f-Zpe80 Lost and Nip/Tuck http://youtube.com/v/vIUUGGlFM4Q Kellie Pickler, features a Mean Girls-style bus bump in the video for her single Best Days of Your Life, which also features singer/soon-to-be-movie star Taylor Swift.
Which is your favourite bus bash scene, and do you know of any more?
Mean Girls is showing on E4 tonight, 6th January, at 9pm
Get the latest updates, reviews and unmissable series to watch and more!
Thank you for signing up to Whattowatch. You will receive a verification email shortly.
There was a problem. Please refresh the page and try again.