Couch Potato's Oscar Robberies: Judy Garland for A Star is Born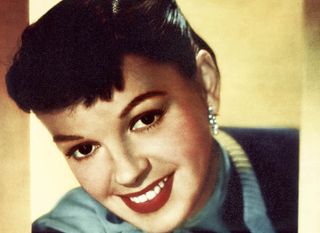 So, we're getting caught up in the awards season excitement here at Movie Talk. Already our News Muse has morphed into Oscars Muse (opens in new tab) via a pair of expensive shoes and a designer frock. And she'll be bringing us the low-down and the gossip in the lead-up, as well as - I believe - staying up all night to watch the ceremony itself.
What I want to know is will she still be dolled up as Oscars Muse (opens in new tab) for that graveyard shift? Hardly comfortable wear, but I can see how feet-pinching killer heels and a rib squeezing, gravity-defying fancy frock could work a lot like caffeine...
Anyhow, while she focuses on this year's big gala, I'm looking back at galas of yore and focusing on robbery.
Not Oscar-winning crime movies, but Oscar contenders who were robbed of their glory.
And, since Oscars Muse began last week with the Best Actress (opens in new tab) category, that's where I'll start too.
The most shocking Best Actress robbery was committed in 1954.
The victim was Judy Garland (opens in new tab). She should have bagged the glory for A Star is Born (opens in new tab), but instead Grace Kelly (opens in new tab) got the gong for The Country Girl (opens in new tab).
The Country Girl (opens in new tab)... Anyone seen it? Coo-ee anyone out there?
I don't even know what it's about. A country girl perhaps? But would that be country rural or country and western yee-ha, y'all. Oh no, I'm getting images of gingham and banjo picking, must stop this silliness.
Perhaps Mika (opens in new tab) http://youtube.com/v/EaEPCsQ4608 A Star is Born (opens in new tab) instead.
It's widely considered to be one of the best musical movies. The Man That Got Away

(opens in new tab)

is regularly voted one of the best songs from a movie.
The film was restored in 1983 with additional footage and was re-released in cinemas and then on video. In 2000 it was released on DVD, and on Blu-ray in 2010.
The soundtrack has never been out of print.
The movie secured gushing praise from critics, with Judy Garland's performance described as "just about the greatest one-woman show in modern movie history" by Time.
Judy Garland won Best Actress at the Golden Globes.
NBC were so certain that Garland would win Best Actress at the Oscars that they set a camera crew on the night to her hospital room where she'd recently given birth.
So, should Grace Kelly have won or was Judy robbed?
Here's the verdict:
(in the words of Groucho Marx (opens in new tab) who sent Judy a telegram after the 1954 ceremony) "the biggest robbery since Brinks."
A Star is Born is showing on Sky Movies Classics this morning - Thursday 3rd February - at 7am (and it's also also showing next Wednesday 9th at 3.10pm).
Discuss these films and their stars on our Movie Talk Facebook page (opens in new tab) or Twitter stream. (opens in new tab)
Get the latest updates, reviews and unmissable series to watch and more!
Thank you for signing up to Whattowatch. You will receive a verification email shortly.
There was a problem. Please refresh the page and try again.