'Dad's had his embarrassing moments,' Prince William tells Ant and Dec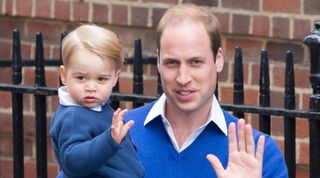 Being embarrassed by the antics of our mums and dads is something that happened to most of us as some point in our lives and it seems even the royals aren't immune to cringe-worthy moments involving their parents.
During a documentary about the Prince's Trust, set up by the Prince of Wales in 1976, Prince William, the Duke of Cambridge, and his brother Prince Harry reveal how their dad Charles would make them cringe when they were growing up.
In the 90-minute programme – presented by Ant and Dec, who are Trust ambassadors – the brothers recall how Charles would laugh at inappropriate moments during school plays.
Prince Charles with his sons in 1997 (Chris Bacon/PA)
William told a story of how his father convulsed with giggles when a pyrotechnic explosion went off at the wrong moment as he was playing the role of narrator in a Christmas play.
The Duke said about his father: "He couldn't stop laughing the whole way through the production."
He added: "Several times I'd stop … I'd cast an eye across, like you know, a big death stare, and then I'd try and get back to my lines, it was terrible."
William and Harry also praised their father's charitable achievements with Charles's eldest son saying the Prince had an "insurmountable amount of duty in him".
"The Prince's Trust evolved over time into what it is now, which is this incredible charity, that has really bust every possible limit it was ever set – it's really done well," added The Duke of Cambridge. "And I think he's incredibly chuffed at how it's gone."
The Duke also confessed that fatherhood has made him more "emotional" and prone to welling up.
Prince William is the proud father of two small children – Prince George and Princess Charlotte – and has discovered that becoming a parent has made him more aware of how "precious life is".
The Duke and Duchess of Cambridge with Prince George and Princess Charlotte (Chris Jelf/PA)
Speaking to Ant and Dec with his brother, Prince Harry, beside him, William said of the changes fatherhood had brought: "I'm a lot more emotional than I used to be, weirdly. I never used to get too wound up or worried about things.
"But now the smallest little things, you well up a little more, you get affected by the sort of things that happen around the world or whatever a lot more, I think, as a father.
"Just because you realise how precious life is and it puts it all in perspective. The idea of not being around to see your children grow up and stuff like that."
Scene from When Ant And Dec Met The Prince: 40 Years Of The Prince's Trust (Kieron McCarron/ITV)
The Duchess of Cornwall has also given what is believed to be her first televised interview for the programme.
Camilla praised the Prince of Wales during the documentary for setting up his Prince's Trust 40 years ago and said he was still "passionate" about helping young people.
Prince Charles and his wife the Duchess of Cornwall (Lynne Cameron/PA)
The Trust grew out of Charles's concern that too many young people were being excluded from society through a lack of opportunity.
In 1976, when he left the Royal Navy, he used the £7,400 he received in severance pay to fund a number of community schemes. These early initiatives were the founding projects of his charity.
Around the country, 21 pilot projects were set up – from a grant given to a 19-year-old woman to run a social centre for the Haggerston Housing Estate in east London, to funds used to hire swimming baths in Cornwall to train young lifeguards.
You'll hear how young entrepreneur and @PrideofBritain winner Gina Moffatt turned her life around in #TrustAt40 pic.twitter.com/Izk0PbHMmn
— The Prince's Trust (@PrincesTrust) January 1, 2016
During the past 40 years it has grown to become Britain's leading youth charity and has reached more than 825,000 young people in total, with three in four achieving a positive outcome – moving into education, employment or training.
Camilla said: "I think I'm really proud to be married to somebody who, 40 years ago, aged 27, had the vision to put it together – I mean it was an incredible idea then.
"For somebody – he was very young then – to think of it and to think of these very disadvantaged young people who had literally been to hell and back and to find a way to give them a second chance in life."
Prince Charles and Camilla (Adam Gerrard/Daily Mirror/PA Wire)
Asked how Charles still maintains his energy and enthusiasm, she replied: "I don't know, he just has that energy. You know if you're passionate about something you can do it, he cares so much about these young people."
When Ant And Dec Met The Prince: 40 Years Of The Prince's Trust will be screened on ITV on Monday 4 January at 9pm.
Get the latest updates, reviews and unmissable series to watch and more!
Thank you for signing up to Whattowatch. You will receive a verification email shortly.
There was a problem. Please refresh the page and try again.