Damian Lewis too posh to push Camden school's laser switch, claims ex-pupil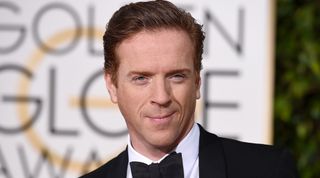 Homeland star and Eton old boy Damian Lewis has been rejected as an 'inappropriate choice' by former pupils of a comprehensive school who say his privileged education makes him the wrong person to launch its anniversary celebrations.
The actor had agreed to switch on a laser display at Acland Burghley School in Camden, north London, to help the school mark 50 years since its opening.
(Yui Mok/PA)
But disgruntled alumni say the invitation to Damian, who lives locally, is at odds with the school's ethos and questioned why he was chosen above other well-known ex-pupils such as singer Ms Dynamite or Lee Thompson, the saxophonist from Madness.
One, City University sociology lecturer Rachel Cohen, who was at the school in the 1980s, has set up a petition which has attracted 90 signatures, urging the school to change its plans.
She wrote: "Acland Burghley has a long and proud tradition in comprehensive education, creatively working with and supporting diverse local students. Damian Lewis was educated at Eton – a school that, more than any other, represents the reproduction of privilege and inequality in the UK.
(Jordan Strauss/Invision/AP)
"We have nothing against him as an actor or local resident, but he is a wholly inappropriate choice for this celebration of a wonderful local comprehensive school.
"We call on the current head and governors of Acland Burghley to change this decision. There are some brilliant graduates of our school – Eddie Grant, Ms Dynamite, Akala or Lee Thompson for instance.
"We encourage you to invite these, or others whose associations with the school are long-standing and commitment to comprehensive education evident."
Headteacher Nicholas John said Lewis's Eton education was of 'no consequence', adding that the anniversary party was one of a number of celebrations planned.
He told the Camden New Journal: "Damian Lewis very kindly agreed to open the light show for us, to give up an evening of his time. The school he went to is of no consequence.
Thanks to Jon and the JAG US guys for the supercharge ride this summer. She growls…. pic.twitter.com/wCwpGCGdRN
— Damian Lewis (@lewis_damian) August 28, 2015
"We are planning to hold a series of other events over the next two years and we will be inviting many other people to take part. I cannot expand on who was or was not invited, and we do have a large number of prestigious alumni. However, our school community extends to people living in our neighbourhood.
"We are excited and proud to have anyone who holds value in education to come and take part. We are a community school and this event is about touching base with people in the area. We are delighted someone who lives in our area is happy to give up their time and show their support for the school."
The petition has so far attracted 106 supporters.
Get the latest updates, reviews and unmissable series to watch and more!
Thank you for signing up to Whattowatch. You will receive a verification email shortly.
There was a problem. Please refresh the page and try again.