Dancing On Ice judge Jason Gardiner admits celebrities are afraid of him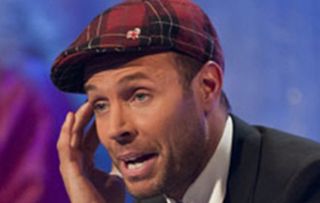 Dancing on ice is back tonight at 6pm!
Dancing On Ice judge Jason Gardiner claims the celebrity contestants are 's*** scared' of him - but he insists he's not a bully.
The show's resident 'Mr Nasty' admitted that the celebrities are intimidated by his reputation, which has seen him dish out some very harsh criticism in the past.
'They're s***-scared,' he said.
'They absolutely are. It's really funny to see them. They're like deers in headlights.
'The public love it. They all say "Thank God for you, you keep it really interesting and we love your comments because that's what we're thinking at home",' he added to The Mirror.
But despite his tough critique, Jason insists he's not a bully - something he has first hand experience with after being bullied as a child.
'I am someone who was severely bullied in my childhood. It was horrendous. I know what being the victim of bullying's like,' he told The Daily Star on Sunday.
'So when anyone says I am a bully I put my foot down and say, "No, I'm going to respond to this because I was bullied I know what it feels like".'
He continued: 'I never bullied anyone on the show.
'Bullying is a relentless attack on somebody because they're different and they don't conform to what is generally considered the norm. I don't do that.
'I give a critique and then it moves on. So it's not fair to attach the word bullying to anything I'm doing.
'To actually discount what the real term bullying is and apply it to what I'm doing on a show, I think really is a disservice to young people now who are experiencing bullying.'
Dancing On Ice returns to ITV tonight at 6pm.
Get the latest updates, reviews and unmissable series to watch and more!
Thank you for signing up to Whattowatch. You will receive a verification email shortly.
There was a problem. Please refresh the page and try again.