The Wall host Danny Dyer - I'd be flirting with Angela Rippon if she was in the studio with me!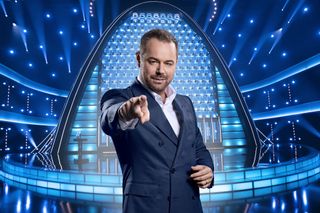 (Image credit: Endemol Shine UK/Kieron McCarron)
EastEnders star Danny reveals all about his new BBC1 gameshow The Wall...
The Wall is a huge worldwide hit, currently shown in 25 countries, and EastEnders star Danny Dyer (aka Mick Carter) is proud to have been chosen to host a British version for BBC1 which kicks off this Saturday.
Filming for all countries takes place in a massive studio in Warsaw, Poland, and during a break Danny actually invited our writer Nick Cannon to hit the studio floor with him to play the game. Calling Nick 'Sunshine' throughout, Danny ended up rather impressed as Nick's pairing did very well, winning a fantasy £10K! (sadly we couldn't keep a penny!)
Danny Dyer reveals all to What's On TV reporter Nick about his huge new gameshow The Wall…
It's great to have Angela Rippon as the voice of The Wall isn't it?
Danny Dyer: "It's a bit of an odd combination isn't it, Angela and me? I've actually not met her yet as she's just voicing the questions as 'The Wall'. If she were in the studio with me, I'd be flirting with her…"
What did you think when producers said they wanted you to film a gameshow in Poland?
DD: "I thought they were on drugs! Really, you want me to do a gameshow, filmed in Poland? I was very confused by it all to be honest. But I watched the American version and I thought you know what, let's have a go…"
WHAT IS ON TONIGHT? Check out our NEW and Improved TV Guide
So how are you enjoying being a gameshow host?
DD: "It's just mad and a weird thing to do, It was nerve-wracking at first as there's anxiety because it's a trip into the unknown. But I'm really loving it. You get caught up in the drama as there's some serious readies at stake."
How does The Wall work?
DD: "Contestants are in pairs answering questions as balls quickly fall through the Wall – which is like a giant penny drop machine from an amusement arcade! It's four storeys high, so a big bit of kit! Where these balls land - in slots at the bottom representing different cash amounts – decides the money won or lost!"
Do you enjoy bantering with the contestants?
DD: "Yes, I get a buzz from it as I can have a muck about with them. I've got a mad sense of humour but I think I'm accessible and friendly. My heart's always in the right place. To me it's like I'm in the pub with someone…but with the swearing thing, I've got a gag on!"
Is it hard for you when you know a contestant has got a question wrong?
DD: "We did have one question which was about rhyming slang. It put me in a right old position as the contestant mucked it up and I knew it was wrong. So that was hard, but in general I haven't got a clue what the questions are going to be and some of them are hard. They're really tricky. It's nice to be quite impartial."
You throw in some nice EastEnders references don't you?
DD: "Of course and it's awkward when I ask, 'Do you watch EastEnders?' and no contestant is watching it! But of course it's always nice to have a little nod to EastEnders…"
Would you like to play The Wall with your other half?
DD: "I'd love to have a go. She'd go crackers playing it, but we'd be good value. Perhaps we'll do it one day for Comic Relief or something. Get Bradley Walsh in to host, he's always about!"
Did you see much of Warsaw while you were filming?
DD: "It's not really a sightseeing tour. It's a job and I've got to focus on it. When I arrived all these world dignitaries were here because of some summit going on so it was all on lockdown. Helicopters and riot vans. I thought they were all there because of me!"
You've been to Poland before for a documentary though?
DD: "Yeah, I was running around with hooligans last time I was here. It's a completely different gig now. What a change that is."
The Wall starts on BBC1, Saturday October 12th at 8.35pm
Get the latest updates, reviews and unmissable series to watch and more!
Thank you for signing up to Whattowatch. You will receive a verification email shortly.
There was a problem. Please refresh the page and try again.