Darcey Bussell's 'Number One' Jay McGuiness is the Strictly Come Dancing 2015 champion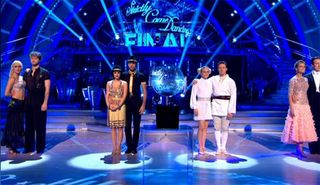 The judges' big scores in the Strictly Come Dancing final went to Kellie Bright (opens in new tab) but the viewers' votes - and, therefore, the Strictly Glitter Ball trophy - went to Jay McGuiness (opens in new tab), the last man standing in the contest.
Each of the four couples in the final had to dance a Judges' Choice and a Showdance. One finalist would then be voted off by the public. The remaining three couples then had to dance their favourite routine of the series.
The four finalist couples line up
As the final progressed, some were starting to wonder if favourites Jay and Aliona Vilani (opens in new tab) - "Jayliona" - would be pipped at the post by EastEnders (opens in new tab) star Kellie and Kevin Clifton (opens in new tab), who got full scores for their Judges' Choice of Tango and their Lindy Hop Showdance and topped the leaderboard.
The Wanted singer Jay went a bit wrong in his Judges' Choice Quickstep…
"There were a couple of incidents," is how Len Goodman (opens in new tab) put it.
"It wasn't perfect," Craig Revel Horwood (opens in new tab) agreed.
And Jay's Showdance was judged as not "showy" enough.
It started in spectacular fashion, though, with Jay being lowered from the rafters to the dance floor.
Jay made an spectacular entrance for his Showdance
"But you started with the finale," said Bruno Tonioli (opens in new tab).
"I wanted it more exciting all the way through," Len complained. "I wanted a bit more 'show'."
"I loved the entrance but you needed a big finish," said Darcey Bussell (opens in new tab).
Well, Jay got a big finish - and so did his fans.
"My Strictly experience has been the scariest thing I've ever done and the most rewarding," said Jay. "There's so much I want to say to Aliona. I'll just say I love you to pieces."
It was Aliona's third time in a Strictly final, "but this has been my favourite Strictly year and Jay has been my favourite dance partner", Aliona said.
First to exit the final was Proms presenter Katie Derham (opens in new tab), who was told by the judges the she "didn't quite keep it together" in her Quickstep and was "rigid and stiff" in her show dance.
Katie and Anton's Showdance had a lot of show
"This is not my natural habitat," Katie said to co-presenter Tess Daly (opens in new tab), when her fourth place in the final was announced. "I've learned to dance and I'm chuffed to bits. This is the right decision. Thank you, Anton (opens in new tab)," Katie added.
That left Kellie, Jay and former Coronation Street (opens in new tab) actress Georgia May Foote (opens in new tab).
Fans wanted Jay and Aliona to do their "Pulp Fiction"-inspired Jive again, as their favourite routine, but they opted for their Paso Doble.
"We picked a dance we thought we could improve on," Jay explained.
"And it was powerful, aggressive and clean," said Len, when they had finished.
"You're Number One in my book," said Darcey.
"I love it, love it, love it," added Craig.
It was Georgia who got the highest praise from Craig, though.
Georgia stunned the judges by dancing blindfolded
After Georgia and Giovanni got the full 40 points for their favourite routine, a Charleston inspired by "Chicago", and after Georgia danced part of her Showdance blindfolded, Craig told her: "You have been extraordinary. I would be very, very proud to put you into any of my West End shows."
And Georgia burst into tears.
Kellie and Kevin's favourite routine was also their Charleston, inspired by the very timely "Star Wars".
And, sitting top of the leaderboard, they must have felt the force was with them. They barely put a foot wrong throughout the night.
Kellie and Kevin didn't quite have enough force with them
"You are one of the most exciting performers I've witnessed," Craig said to Kellie.
"You put the 'star' in Star Wars," Len told them. "I love you two. You bring joy to my heart. You deserve to win, in my opinion."
But the voting public didn't agree.
Jay and Aliona can hardly believe they won
When Tess announced the result, Jay and Aliona looked shocked and slightly embarrassed, as if even they didn't think they had done enough to win.
But they had.
For all the dances in the final, and the scores, click here. (opens in new tab)
If you missed seeing Jay and Aliona's Jive again, you can watch it below.
Strictly Come Dancing Christmas Special (opens in new tab) is on BBC1, Christmas Day, 6.15pm.
http://www.youtube.com/watch?v=0m6MjsMXZ8I
Thank you for signing up to Whattowatch. You will receive a verification email shortly.
There was a problem. Please refresh the page and try again.