David Hare, the man behind new BBC2 thriller Collateral: Strong women as protagonists has become a boring cause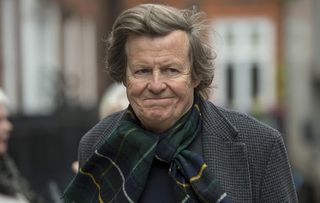 The writer said he wants to have the right to create any kind of female character without being called 'misogynistic'
Screenwriter and playwright Sir David Hare, the man behind new BBC2 thriller Collateral, has said he is "sick to death" of hearing about the need to create "strong" female characters.
The writer, 70, said that he should be able to pen any kind of female character without being called "misogynistic".
Sir David, who has enjoyed a reputation for creating leading roles for women and whose new BBC2 thriller Collateral stars Carey Mulligan, Billie Piper and John Simm, told The Times it was "limiting" to only want "strong" females on stage or on screen.
"I am sick to death of hearing about the need for strong women as protagonists. It's a boring cause," he said.
He told the newspaper: "If I want to represent a murderess, I want that right. Without being called misogynistic.
"Similarly, I want to be free to portray silly women and weak women and clever women. I want to be able to portray all women."
Equality is portraying "all women equally", while "having just women who storm through the film or play being rude to everyone, and that's called 'strong women', that's not my idea of equality", he said.
Sir David, whose films have included The Hours and The Reader, said that "women should not be presented as the moral conscience of men's actions either", adding: "I hope I have 100% avoided portraying girlfriends saying to men, 'Are you sure you're doing the right thing, darling?'"
Get the latest updates, reviews and unmissable series to watch and more!
Thank you for signing up to Whattowatch. You will receive a verification email shortly.
There was a problem. Please refresh the page and try again.