David Suchet 'nearly walked' from Poirot over hankie dispute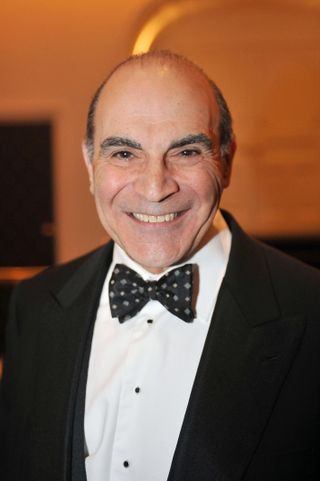 David Suchet has revealed how his 25-year reign as Belgian detective Hercule Poirot could have been wiped out - in an argument over a handkerchief.
The 67-year-old actor will play Agatha Christie's infamous crime-cracker for the last time in Curtain: Poirot's Last Case, which screens on ITV next month. But Suchet has revealed how he almost quit the role during the first series, when he clashed with a director who did not want him to indulge in one of the quirky detective's little foibles, which involved placing a hankie on a park bench before he sat on it.
He confessed: "I will say this quite openly and honestly - in defence of the character, I would have walked. At some points, if I did not get the support of my producers, I would have walked."
Suchet insisted the row over the handkerchief, during filming for the detective series in 1988, was 'very serious'.
He explained: "As charming as I may appear, when it comes to defence of character or my work, then I will fight, and I will not compromise.
"There will be directors through my 44-year-career who have had a hard time with me both in the theatre, television, radio and film.
"I will not ever be told how to play a role. That's my job! If I'm going to be creative at all, then I'm an interpreter and if I'm not allowed my interpretation and that's taken away from me then I'm a puppet.
"Now if Agatha Christie writes that he dusts dirty chairs, on park benches he will sit on his handkerchief, he's that sort of person, then I will show it. And if a director says to me 'Oh don't do that, we don't want any of that', then I will say, 'I'm sorry, but that's what he does.'
"And if the time comes when it's make or break, I will walk."
Fortunately the argument was resolved and Suchet has now filmed all of Agatha Christie's Poirot stories. But when Suchet began making the series back in 1988, he never imagined he would end up completing the canon.
He revealed: Apart from year one, when I did 10 short stories and an option to do one other, I've never been optioned. So every year has been 'Will you do it again?'
"And then once I got a letter from ITV saying, 'Thank you very much, but that's it, we're not doing any more'.
"I've just been doing a job every year and she wrote all these wonderful books, and then all of a sudden I've done them. "And then all of a sudden now I realise it's become a legend... All of a sudden television history has been made."
Get the latest updates, reviews and unmissable series to watch and more!
Thank you for signing up to Whattowatch. You will receive a verification email shortly.
There was a problem. Please refresh the page and try again.