Dawn French to host ITV kids' talent show Little Big Shots: 'I LOVE everything about it'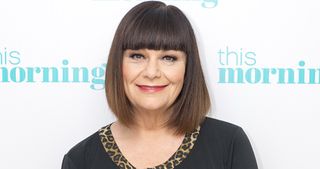 (Image credit: Ken McKay/ITV/REX/Shutterstock)
Dawn French is the unlikely host of a new entertainment concept on ITV – a talent for children with no competition element
ITV has announced Dawn French will be hosting Little Big Shots, a new series showcasing the talents of three to 13-year-old children.
Little Big Shots is based on a US show in which talented children get a chance to shine. But there's a unique element to the show – there are no prizes, no winners or losers and no competition element.
Dawn said: "Rarely have I relished the thought of doing a show as much as this. I LOVE LOVE LOVE everything about it, especially the fact that I will get to witness the amazing talents of these remarkable little humans up close. It's going to be a privilege. Yay! Bring it on!"
Little Big Shots is set on a huge revolving stage. Dawn will be on a sofa on one side,w here she can get to know the children, while on the other is the stage where they can do their thing.
Their thing could be anything and from anywhere - the show isn't specifical to Britain. So the talents could range from black belt karate champions to classical music masters and miniature chefs. Dancers, singers, skateboarders, spelling experts... any talent is eligible.
Peter Davey, head of comedy entertainment, ITV said: "Dawn's hugely infectious humour, warmth and affability make her the perfect host for Little Big Shots.  Add to the mix these incredibly talented and entertaining kids and you have some potentially great TV."
No word yet on when Little Big Shots will premiere.
Watch a trailer for the US version:
https://youtu.be/LFWd60QQKC8
Get the latest updates, reviews and unmissable series to watch and more!
Thank you for signing up to Whattowatch. You will receive a verification email shortly.
There was a problem. Please refresh the page and try again.