Dawn French: I'd never close the door on French and Saunders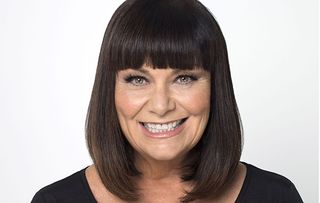 (Image credit: ITV)
Dawn French reveals the latest batch of talented juniors on Little Big Shots and talks French and Saunders
There are no judging panels, no prizes and no winners or losers, but there are bound to be plenty of beaming smiles as a fresh new batch of talented youngsters take to the stage in the second series of Little Big Shots.
Over six episodes, presenter and comedy legend Dawn French will again be meeting pint-sized stars from Britain and all over the world, before giving them the chance to show off their skills.
Here Dawn French, 60, tells us about a new twist on Little Big Shots, and explains why this job has hit the high notes with her in-laws… plus the future of French and Saunders
It was great to see French and Saunders back at Christmas. Will there be more?
Dawn French: "We never close the door on French and Saunders. There are no immediate plans because Fatty and I both are booked up into next year. But the minute there is a window of opportunity, we'll be in there!"
We're delighted Little Big Shots is back for a new series! What do you love about making it?
DF: "It's such a joyful show. A big attraction for me was that you are not promising these kids are going to be big stars, there's no prizes or judging or horrible critiques or anything like that. Everybody understands that, for that one little moment, they get to shine."
What was the reaction like to the first series?
DF: "Fantastic. My in-laws love it. Quite a lot of what I do divides people – some like it, some don't – but this, everyone seems to love. There's such a wide variety of children and talents on the show!
"They're so different. We have lots of very talented performers, but some are just kids who've done something silly and funny on YouTube! In the first show we have a little boy called Marshall who got a guardsman's outfit at Christmas and he loved to march in it so his family took him to Windsor Castle to meet a proper guardsman. The guardsman got permission from his senior to go out and march with Marshall, and his year was made by that – so we replicated it on stage."
Any other standout acts?
DF: "The Russian aerialists were absolutely extraordinary. They were strapped in but, nevertheless, the courage it takes to do that…"
Anything new this series?
DF: "There's a bit of collaboration. I was a bit wary but actually it's great because you get a second bite of some of the kids. The producers think, 'We have this beautiful singer, what would go well with her? I know, that lovely boy, the ballet dancer, let's get him back'."
Get the latest updates, reviews and unmissable series to watch and more!
Thank you for signing up to Whattowatch. You will receive a verification email shortly.
There was a problem. Please refresh the page and try again.