Death In Paradise reveals killer Sophie twist (spoilers!)
Spoilers ahead! Death In Paradise's lead detective discovered that his girlfriend wasn't who she claimed to be...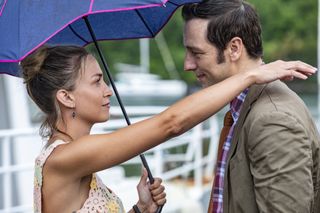 (Image credit: BBC/Red Planet Pictures)
Death in Paradise's dramatic two-part story ended in heartbreak for DI Neville Parker (Ralf Little) tonight, after he discovered that his girlfriend Sophie Chambers (Chelsea Edge) had been lying to him from the start.
After DI Karen Flitcroft (Jaye Griffiths) arrived on Saint Marie to carry out an investigation into the death of David Cartwright (Patrick Kennedy), she reluctantly concluded that Neville was the only person who could have done it, and he was officially charged with murder and taken to prison to await trial. But after noticing the prison officer fumbling with the wrong key, something clicked in Neville's brain, and he realised that keys were, appropriately enough, the key to the whole case.
It turned out that it was Sophie who killed David Cartwright, and that the reason why went all the way back to Neville's days in Manchester with his colleague Andrew Buckley (Kent Riley). Andy admitted during the episode that he had taken bribes from drug dealer Darren Biggs after he ended up in debt, and when Biggs was stabbed, he'd removed a crucial piece of evidence from the crime scene to avoid implicating himself. A girl called Grace Walmslow, who worked as a runner for Biggs' drug business, was convicted of the murder, and later took her own life in prison.
But a picture on Grace's social media revealed that "Sophie" was actually Grace's big sister, Becca. When confronted, Sophie admitted to Neville that it was actually her, not Grace, who was working for Darren Biggs, and that she'd done so to keep a roof over her and her sister's heads — but that fateful night, she had been ill and Grace had gone in her place, setting the whole chain of events in action.
The piece of evidence that Andy removed was a mobile phone with his number in it, which would also have shown a history of texts between Biggs and Becca, not Grace — and if the police investigated properly, they would have found the phone, arrested her instead of Grace, and Grace would still be alive.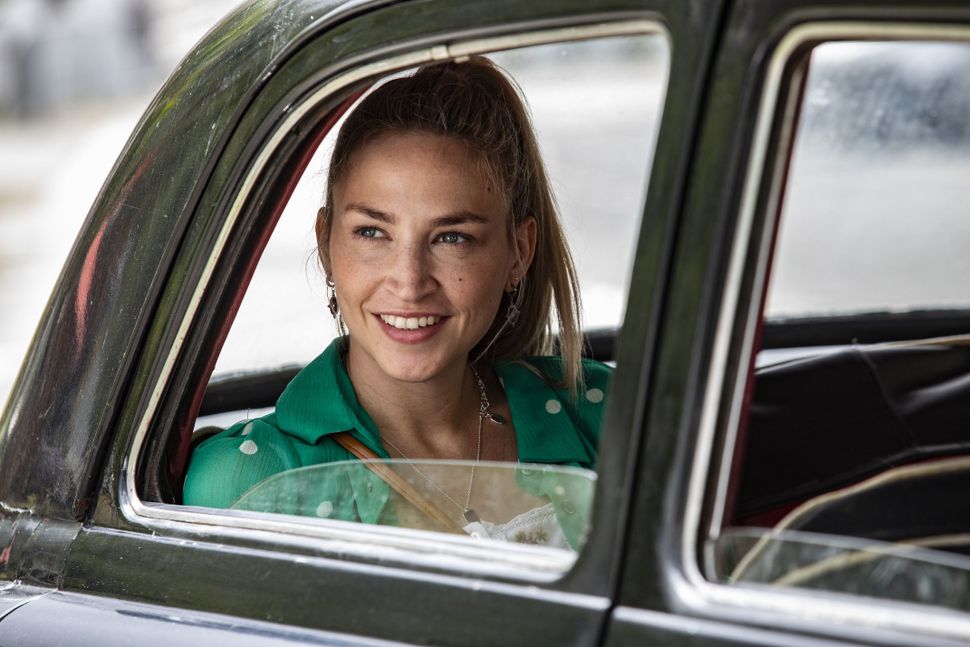 Sophie blamed Neville for her sister's death, because he was the lead investigating officer on the case and had failed to spot his friend's corruption, so she plotted to get her revenge by coming to Saint Marie and gaining his trust until she could find an opportunity to destroy him — and when Neville became so angry over his inability to prove that David Cartwright was a murderer, Sophie seized her chance by following him to Cartwright's hotel. After Neville confronted him, Sophie sneaked into Cartwright's room through the back door, pretended to be a fan, and stabbed him with one of Neville's kitchen knives.
She then sneaked back out the same way she came in and locked the door behind her, leaving a similar-looking key behind to make it look like the doors had been locked from the inside the whole time and trick the police into assuming the killer must have got in through the front door. After the police collected the fake key as evidence, Sophie went to the police station acting the concerned girlfriend, and took advantage of the rest of the team being distracted by Neville's incarceration to replace the original key while no one was watching.
After Sophie finally exposed as David Cartwright's killer, the episode ended with Neville a free man once again, but hurt and confused by Sophie's deception. So what does this mean for his future in Saint Marie? Will he be haunted by failing to spot the killer who was right under his nose? And will he ever be able to let anyone get close to him again? We'll find out in next week's Death in Paradise season 12 finale...
Death In Paradise continues on Fridays at 9pm on BBC1. You can catch up on the series so far on BBC iPlayer
Get the What to Watch Newsletter
The latest updates, reviews and unmissable series to watch and more!
Staff Writer for TV & Satellite Week, TV Times, What's On TV and whattowatch.com
Steven Perkins is a Staff Writer for TV & Satellite Week, TV Times, What's On TV and whattowatch.com (opens in new tab), who has been writing about TV professionally since 2008. He was previously the TV Editor for Inside Soap before taking up his current role in 2020. He loves everything from gritty dramas to docusoaps about airports and thinks about the Eurovision Song Contest all year round.