EastEnders at New Year: Tragedy for the Slaters and the end of Phil's feud with Keeble?
EastEnders is seeing in 2023 with plenty of drama!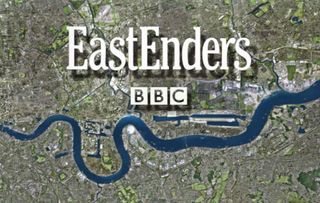 (Image credit: BBC)
EastEnders on New Year's Day is going to be full of drama according to the latest exciting trailer.
In the sneak preview of what's coming up in Saturday's special festive episode, there seems to be tragedy, tension, and what looks like the end of Phil Mitchell's feud with DCI Keeble.
But who's going to come out on top as 2023 dawns?
The trailer begins with a glimpse of the Slaters' jam-packed New Year's Eve party, with revellers counting down to the start of 2023.
But almost immediately we see a panicking Suki find Eve collapsed. Husband Nish arrives as Suki tells him Eve has "passed out", but will he be suspicious about why Suki is so worried?
And what's happened to poor Eve?
Meanwhile, Eve's not the only casualty at the party.
As the New Year begins and everyone cheers, it's Jean's turn to collapse in daughter Stacey's arms!
What's going on?!
Elsewhere it looks like it's not a very happy new year for Kat Slater either as fiance Phil tries to reassure her that Billy won't be going to prison any time soon.
"It's over," Phil says.
But what does he mean by that?
Because the next tease in the trailer is Keeble arriving at the club, to tell Phil and Billy that "we've got a little problem, Phil".
"We've" got a problem?
Sounds interesting!
The trailer ends with a distraught Kat running down a hospital corridor. Could Phil be the one who's been hurt?
Or could it be Jean that frantic Kat's looking for? Because the final shot of the trailer is a worried-looking Stacey.
Will the Slaters be facing a tragedy this New Year?

EastEnders is on New Year's Day at 6.30pm on BBC One. Check our TV Guide for more information.
Get the latest updates, reviews and unmissable series to watch and more!
Kerry is a writer, author and editor with a lifelong love of the soaps, a passion for TV drama of all kinds, and an obsessive devotion to Strictly Come Dancing.
She was features editor of All About Soap magazine for more than a decade, covering every bit of excitement from all the UK soaps and the Aussies and still writes about all the juiciest gossip from the Street, the Square and the Dales whenever she can.
Kerry's also an author of historical fiction, and her two jobs collided when she got the chance to write two novels based on Emmerdale, and the Sugden, Tate and Dingle families, during WW2.
Thank you for signing up to Whattowatch. You will receive a verification email shortly.
There was a problem. Please refresh the page and try again.