7 things you never knew about EastEnders star Danny Walters, aka Keanu Taylor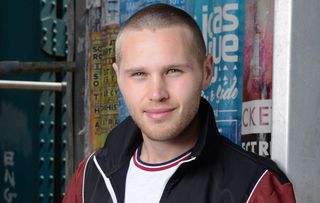 (Image credit: BBC / Kerion McCarron)
Danny has just become an uncle, bless!
Danny Walters has been starring in EastEnders since 2017 as Keanu Taylor. But how much do you know about the 25-year-old star? Here's 7 things you never knew about him...
1. Danny Walters was once 16 stone
Danny is now very fit, but he once told us that wasn't always the case. "I certainly wasn't [fit] when I was about 15 or 16. In fact, I weighed 16 stone! I knew I had to change something about myself and I discovered fitness. It changed my life – and not just physically. Being fit gives me a real sense of well-being and it makes me feel mentally strong."
2. Danny has a girlfriend called Lily
Danny has a long-term girlfriend, Lily. He took Lily to the National Television Awards earlier this year and thanked her when he collected his Best Newcomer award.
3. Danny recently became an uncle to a "beautiful little girl"
He posted this adorable snap on Instagram, declaring: "Words cannot describe how incredible I felt in this picture! Yesterday I held Harper-Rose in my arms for the first time when she was just 6 hours old. I became an uncle for the first time. Congratulations to my brother and Emma for bringing such a beautiful little girl into this world." Bless! And he also shared this very sweet snap too, saying: "Morning chill with this beautiful creation."
4. Danny's big break was in Benidorm
Danny once told us he was over the moon when he landed the part of troublemaker Tiger in Benidorm in 2014. The previous year Danny graduated from the London School of Musical Theatre and he said when he got the call that he was going to be in Benidorm "it was the best feeling of my life." He added: "That day something changed for me. I went from being a young wannabe actor to being surrounded by amazing talents."
5. Danny was in Call the Midwife!
Danny played young expectant father Leslie Matlin in the BBC1 hit back in 2016. He enjoyed some emotional scenes with Nurse Phyllis Crane, played by Linda Bassett. Danny also starred in the BBC3 drama, Our World War: War Machine as tank crew mechanic Mike Weston.
6. Danny will be playing The Beast in panto this Christmas!
Danny has revealed that he's "thrilled" to be playing The Beast/Prince in Beauty and The Beast at Blackpool Grand Theatre this Christmas.
7. Danny supports Arsenal
Danny once told us: "I'm a big Arsenal fan, but the trouble is finding the time, what with work and the gym."
Danny Walters Soap Awards pic: FeatureflashSHM/REX/Shutterstock. NTA picture: David Fisher/REX/Shutterstock
Get the latest updates, reviews and unmissable series to watch and more!
Thank you for signing up to Whattowatch. You will receive a verification email shortly.
There was a problem. Please refresh the page and try again.