EastEnders star Danny Walters: Show boss made me shave off my hair!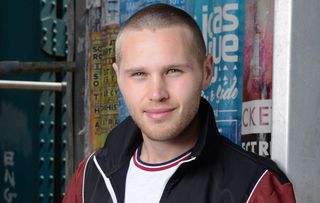 (Image credit: BBC / Kerion McCarron)
The Albert Square newcomer, who plays mechanic Keanu Taylor, says he used to spend half an hour a day perfecting his locks - but not any more...
EastEnders latest heart-throb Danny Walters says he had to shave his hair off to play newcomer Keanu. The 24- year- old, who made his screen debut last night as part of the loudmouth Taylor family, says he had no idea of executive producer Sean O' Connor's plans until he arrived for filming.
Explains Danny, who previously played teen tearaway Tiger Dyke in ITV comedy Benidorm: "You may not believe it, but I had really nice hair. When I went to auditions, that was my selling point: 'Just look at the hair.' I'd spend half an hour doing it."
'When they brought me in before we started filming, to do costume and make-up, I was just expecting a trim. But the head of make-up sat me down and said: 'I've received an email from Sean, the producer...'
"I said, 'Okay, how is he? Send him my love.' She said: 'He's just put Number Two.' I asked what number two meant and then the penny dropped and I thought: 'Oh s**t!' It was literally clippers out and… gone."
The actor adds that, whilst he initially felt 'cold' after losing his locks, he accepts that it's a better look for his character. "I look older and more rugged, and it matches the family - so it was worth it in the long run," he says.
But despite his new macho look, Danny doesn't think his alter-ego, who is an apprentice mechanic, will be getting into a relationship with any of Albert Square's ladies any time soon.
'I don't think Keanu's bothered,' he adds. 'He doesn't want to be tied down. He's got too many things to worry about.'
The Taylor clan, comprising single mum Karen Taylor (played by Lorraine Stanley) and her children Keanu (Danny) and Bernadette (Clair Norris) will rocked up in Walford last night. The family also include younger brothers Riley and Chatham, played by real life brothers Tom and Alfie Jacobs. Bronson the dog and a bearded dragon named Rooney are also part of the family and an older sister called Chantelle, who has a boyfriend and two children lives in another neighbourhood and will exist off screen.
Danny recently said, "I feel so privileged to already feel a part of the team. Everyone has been so friendly and kind and gone above and beyond to make us feel welcome and supported."
His character, Keanu, is described by show insiders as "seeing himself as the man of the family and is fiercely protective over his siblings."
EastEnders, BBC1
Get the latest updates, reviews and unmissable series to watch and more!
Thank you for signing up to Whattowatch. You will receive a verification email shortly.
There was a problem. Please refresh the page and try again.