EastEnders stars Louisa Lytton reveals a HUGE cast secret!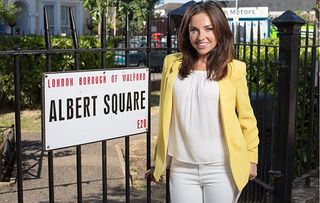 (Image credit: BBC / Jack Barnes)
Louisa, who plays Ruby Allen, on 'the fear' of filming a big scene in The Vic!
Ruby Allen is going through a really tough week on EastEnders – and it's all building to a massive episode in The Vic, which Louisa Lytton reveals was really scary to shoot. And she's not the only cast member who finds it "intimidating" filming in the iconic location!
As her rape storyline continues, Ruby's ordeal – which saw her sleep with Martin's mate Ross after a drunken night out only to wake up with his other friend Matt on top of her – becomes public knowledge.
The excruciating reveal happens inside The Vic on Thursday when Ruby comes in for a drink only to find Ross and Matt are there with Martin.
The whole pub seems to be talking about the rape case, which has been plastered over the Walford Gazette. No one realises Ruby is the victim – but they're about to…
The revelation takes place during an episode based entirely in The Vic. It made for a scary moment for actress Louisa Lytton, who hasn't long returned to the soap following a 12-year gap, as it forced her to confront a fear felt throughout cast…
"Filming in the Vic, it's scary! Everybody in the show says it. All eyes are on you. It's intimidating," said Louisa about the upcoming episode.
"I was really nervous about it, and people like Letitia Dean and even Steve McFadden said everyone feels that about a big scene in The Vic."
"There's a bit at the end where I have to turn round and they were all staring at me. It's horrible, my knees went weak," she admitted.
"I've only been back in the show a couple of months. I haven't worked with half of these people before. I was really nervous!"
Louisa may have been daunted as she played out the big moment but it wasn't all bad.
"The whole episode is set in The Vic with about 12 of us in there, which was nice because there are loads of people interacting with each other who I don't normally see," Louisa added. "The story is all about different characters' views on rape and consent. We're trying to show it from everybody's angle.
"It's a really different episode, it's shot differently, it's not normally what you'd see on EastEnders."
Tune in to watch Ruby's agony play out on Thursday on BBC1 from 7.30pm.
Get the latest updates, reviews and unmissable series to watch and more!
Thank you for signing up to Whattowatch. You will receive a verification email shortly.
There was a problem. Please refresh the page and try again.