'He's breaking my heart' EastEnders fans react as it's revealed Ted can't afford Joyce's funeral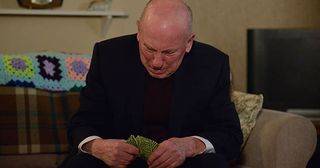 Viewers couldn't cope with the emotional scenes
Following the shock death of his wife Joyce, EastEnders fans were in for even more emotional scenes on Friday when it was revealed Ted couldn't afford a funeral for her.
Instead, Joyce was given a budget government cremation – which Ted was not allowed to attend.
After he was seen breaking down at home, viewers took to social media to reveal their sadness for Ted.
One wrote: 'So sadly true! Sadly this happens in real life. Well done EastEnders for bringing up this story line.'
Another said: 'Ted Murray's predicament and subsequent breakdown in EastEnders was absolutely heartbreaking. The writers deserve ENORMOUS credit.'
And a third simply added: 'My heart is breaking so much for Ted.'
Luckily the residents of Albert Square were on hand to support Ted, with Karen and Bernadette taking him over to the Queen Vic to pay tribute to his beloved wife.
Landlord Mick assured Ted: 'It's only a drink and a sausage roll. Joyce was well-liked. You're not the only one who will miss her.'
Thank you for signing up to Whattowatch. You will receive a verification email shortly.
There was a problem. Please refresh the page and try again.