Eddie The Eagle: I still can't dive after Splash! injury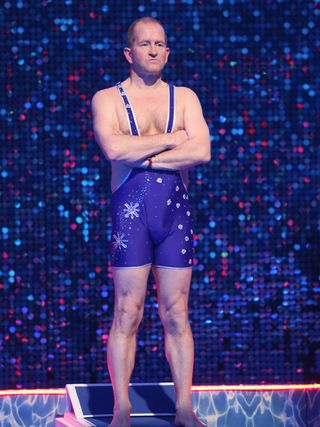 Splash! champion Eddie The Eagle Edwards has revealed he is still unable to return to the diving board almost a year after he won the first series of the show.
The former Olympic ski jumper, who wowed the judges with his prowess in 2013, said that a shoulder injury he suffered while training for the show has still not healed properly.
"It's been 10 months and my shoulder's still not right but it's getting better," he admitted.
"I did a one-metre dive a month ago when I took my girls up to my local swimming pool and the pain was excruciating so I thought 'I'm not ready yet'.
"I'm amazed, this has been the longest injury that I've ever had."
He added: "It won't affect my ski-jumping because I don't use my shoulder for ski jumping, but I would like to do some diving again."
Eddie also revealed he was looking forward to the new series of the show but would be unable to see the episodes until later due to being away for much of the month.
"I'm going to get my mother-in-law to tape them and then I'll watch them when I get home," he explained.
"I want to see who's getting good in their swimming costumes and what diving boards they're getting off and what dives they're doing, and see if there's any competition for the champion of champions that they might do in years to come, so I need to keep an eye on the competition."
Splash! (opens in new tab) dives into action on ITV at 7.20pm on Saturday night.
Get the latest updates, reviews and unmissable series to watch and more!
Thank you for signing up to Whattowatch. You will receive a verification email shortly.
There was a problem. Please refresh the page and try again.