Emilia Fox on her new thriller Strangers: 'She's very different from Nikki Alexander in Silent Witness!'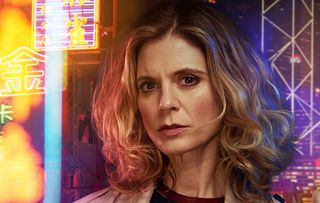 Emila Fox reveals all about her character in Strangers and working with John Simm
Emilia Fox couldn't wait to get started with her role as Sally Porter - the only ally of John Simm's character Jonah Mulray - in big new ITV thriller Strangers, after becoming obsessed with the script when it was originally sent to her.
"I was very excited about it, and really wanted to know what happened to her next. I learned all the lines for the audition even though they only wanted me to do one scene!" she laughs.
"Jonah's quite dependent on Sally to start with, and she wants to help him but there's more going on in her life and quite a few layers to discover – she's very different from Nikki Alexander in Silent Witness!"
Emilia, 44, is also delighted to finally have the opportunity to work alongside her contemporary John Simm - who revealed to us he'd consider a return to Life on Mars.
"We'd tried to work together 20 years ago," she says. "We were meant to be in a play together, stuck in some sort of basement, but it didn't happen. It was good that this came up so we could work with each other!"
Strangers, starring Emilia Fox and John Simm, starts next Monday at 9pm. It's eight parts long.
Get the latest updates, reviews and unmissable series to watch and more!
Thank you for signing up to Whattowatch. You will receive a verification email shortly.
There was a problem. Please refresh the page and try again.