Emma Willis makes surprise revelation about winner of The Voice UK just weeks ahead of final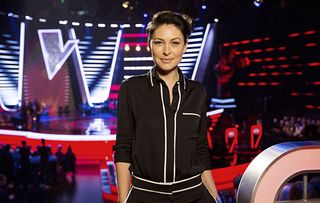 (Image credit: ITV/REX/Shutterstock)
This is quite impressive!
With just weeks to go until the live final, fans of The Voice UK are already guessing at who could win.
And it looks like host Emma Willis has already figured it out, as she's revealed that she's managed to successfully predict the victor of every series of the show she's worked on!
'In 2015, when Stevie McCrorie walked on stage with that voice and rocker dude image, I was like "yesss" and then he ended up winning!' says Emma, 41.
'I also predicted Jermain Jackman in 2014, Kevin Simm in 2016 and Mo Adeniran last year. I don't know whether that means I'm an expert on music…
'We all have our own tastes and you're listening out for a certain kind of voice, and I love certain types of singers and bands.'
Emma admits that she's already made her mind up on this year's winner, though won't reveal the name of the act she's tipping to come out on top.
However, she does say that new coach Olly Murs has got a particularly strong team - but with the tough Battle Rounds still ongoing, all of the singers currently face an uncertain future.
It's a difficult stage of the competition for the contestants and Emma tries hard to offer as much support as she can.
'The Battles are fantastic, but I don't think you ever get desensitised to it.' the presenter tells the Daily Express. 'I'm not a singer and I don't know how they feel, but I know what it's like to love something and really want to achieve it, and then have that thing taken away from you.
'We've all been told no at some point. I'm human and I care about people's feelings. It's hard - and for the judges too!
'They finally get a team and then it's like, "You have 10 fantastic singers… and you have to let some of them go."'
Watch Emma Willis guide the singers through the latest The Voice UK Battle Round on Saturday 3 March at 8.30pm on ITV.
Get the latest updates, reviews and unmissable series to watch and more!
Thank you for signing up to Whattowatch. You will receive a verification email shortly.
There was a problem. Please refresh the page and try again.