Emmanuel Nwamadi may not have The Voice for tonight's semi-final!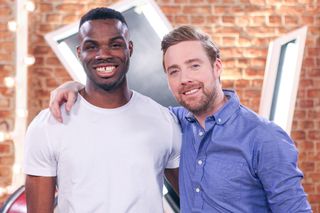 (Image credit: BBC PICTURES/WALL TO WALL)
Emmanuel Nwamadi, one of the eight semi-finalists on The Voice, has revealed he is battling illness ahead of tonight's live show.
The 23-year-old student, who is part of Ricky Wilson's team on the BBC One show, admitted he is on the verge of losing his voice after suffering from the flu.
It couldn't have come at a worse time for Emmanuel because he and the other sem-finalists will all be hoping for a place in next week' s final.
"I've got a cough and I'm losing my voice as well. Rehearsals went really well. I just need to work on this cough, it's putting me down," he said, adding: "I think I'll be fine."
Nigerian-born Emmanuel, who is studying commercial music management at the University of Westminster, said his voice took a battering after he fell sick.
"A couple of days before the last live show, I had the flu," he continued. "It got better … My throat still felt really bad, but it came back again. Now I just have a really bad cough and I'm losing my voice.
"I've been trying to take care of my voice but I think I just need some rest, and I'll be fine for tomorrow."
Described as the "shy guy" with the deep voice, Emmanuel has impressed the judges – Ricky, Sir Tom Jones, Will.i.am and Rita Ora – and presenter Emma Willis with his soulful renditions of Phil Collins' Another Day In Paradise and Otis Redding's I've Been Loving You Too Long.
He joins Scottish firefighter Stevie McCrorie, also on Team Ricky, for the live semi-finals.
Will.i.am's team consists of opera singer Lucy O'Byrne, Sheena McHugh and celebrity chauffeur booker Vikesh Champaneri, while Rita is banking her hopes on singers Joe Woolford and Karis Thomas.
Sir Tom is backing Sasha Simone after his other acts were not voted through from the quarter-finals.
"Everything is happening so quick and everyone has been so amazing on social media," Emmanuel said of the strong support he has received.
"I can't believe it. It's made me feel so confident and so good, I'm overwhelmed and so grateful."
He vowed to speak more and voice his gratitude to his supporters with the next show, and said it would be "amazing" if he makes it through to the final on April 4.
"The nerves kick in when the mic is given to me and when Emma (Willis) asks me how I feel. Tomorrow, I'm going to talk a bit more and be more vocal," he said.
"I'm always excited to get on stage and perform. I feel like that's where I can open up the most. The music is what I truly love doing, so I can't wait to get on that stage."
Emmanuel added: "It would mean a lot if I make it to the finals. It would be amazing."
The semi-final of The Voice is on BBC1 tonight at 7.00pm.
Get the latest updates, reviews and unmissable series to watch and more!
Thank you for signing up to Whattowatch. You will receive a verification email shortly.
There was a problem. Please refresh the page and try again.