Ex Emmerdale star Roxanne Pallett: 'I'm happy to be the go-to actress for horror films'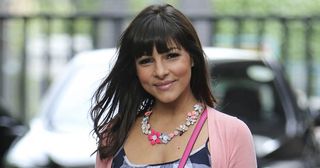 (Image credit: REX/Shutterstock)
Former Emmerdale star Roxanne Pallett reveals how she has become a 'horror heroine' of Brit flicks – and follows her mum's advice!
Since leaving Emmerdale seven years ago, Roxanne Pallett has carved out quite a niche for herself playing women as naughty as her Jo Sugden character.
Roxy has just opened in the play Some Girls at the Park Theatre in London, where she's playing wild child Tyler who, says Roxy, is a bit of a sexual predator.
How are you enjoying your new role? "I love playing extreme women like Tyler, who uses her sexuality as a weapon! The more broken, dangerous and flawed they are the better. I find it quite therapeutic, although my poor mum can't get her head around it. She says she's had 10 years of seeing me screaming, crying or fighting on stage and screen, and she can't wait for me to do some comedy. She's delighted I'm going to be in the musical The Wedding Singer next year. It'll be a bit of light relief."
You've become the 'go-to' actress for a new generation of Brit horror flicks… "I'm very happy to say I have. I've done three or four now and filming recently finished on my latest movie, The Habit."
What's that about? "It's a drama-thriller about the dark underbelly of life in Manchester and being a northern girl who loves the north and lives in Manchester, there was no way I was going to pass on it."
Do you enjoy being a 'Horror Heroine'? "The horror fans have really embraced me and that's so nice – horror fans are so loyal and passionate. But I'm also fortunate enough to be doing drama, comedy and musicals, too. To get to do a horror film then a straight play and then a 1980s musical... You couldn't get more varied and I'm so thrilled and excited."
How do you cope when you're not so busy? "The downtimes are very hard. I had a year out of work and that was brutal. It can be soul destroying waiting for that phone to ring. When you're not working, you have to be positive – fortunately I'm like that anyway."
Last time we spoke to you, you were single. Is this still the case? "I'm single at the moment. I'm going on dates, which is nice, but I'm living a Carrie Bradshaw kind of life. That suits me fine at the moment. I have a history of rushing into relationships far too quickly. Now I'm in my thirties, I've realised that you don't need to do that. My mum always says to me that I should get to know a guy and meet his friends before I decide whether he deserves the title of boyfriend. I'm following her advice!"
Do you still getting recognised for playing Jo in Emmerdale? "Even after seven years, I do still get recognised for Jo. I love that and see it as a real compliment. It's wonderful that she made such an impression. I never get tired of being recognised for her."
Would you ever go back to the Dales? "I was actually approached about two years ago, but was in the middle of filming a movie at the time – it's always the way, isn't it? Hopefully, we will talk again at some point but it will have to be right for Emmerdale and right for me. If Jo does return, it'll have to be with a bang!"
Get the latest updates, reviews and unmissable series to watch and more!
Thank you for signing up to Whattowatch. You will receive a verification email shortly.
There was a problem. Please refresh the page and try again.