Emmerdale fans are LOVING this unlikely new comedy duo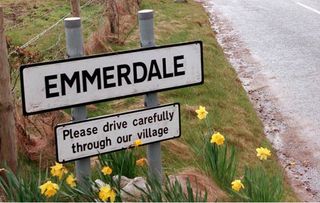 Every soap needs a bit of light-hearted humour, and Emmerdale hit the nail on the head with this new double act last night.
Last night's trip to Emmerdale has left fans in stitches after an unlikely comedy duo emerged in Nicola King and Robert Sugden.
Viewers have taken to social media to share how much they were enjoying the playful banter between the pair, with some of them wondering why Robert and Nicola aren't seen on screen together more.
The drama started when Nicola was struggling to juggle three sick kids, a job and trying to keep the haulage business afloat while husband Jimmy was away.
But when dad Rodney couldn't help out with childcare, Nicola was left to resort to desperate measures and took three children with a sickness bug to work with her.
Thankfully she found herself an unlikely knight in shining armour in the form of Robert Sugden... who reluctantly got cornered into looking after Nicola's children while she worked.
As Nicola manned the phones, the kids - who didn't seem that sick after all - proceeded to have paper ball fights with Robert while also drawing all over his expensive shirt.
After popping out to get coffees, Robert returned to the office to find the kids had disappeared...
Asking Nicola where her children were Robert said: "Where are the brats?" To which she replied: "Bernice has taken them for an hour..."
"I thought's they'd run way!" Robert replied, only for Nicola to say with a deadpan face... "I wish!"
Fans were loving the witty banter between the pair...
As well as joking around, the pair also came up with a new business plan. Robert decided to get his hands back on his share of the haulage firm by swindling Graham while he's drunk into signing it over.
Nicola thought for only a millisecond before agreeing to be on the plan - so it looks like the con is on.
Does this mean we could be seeing a lot more of Nicola and Robert together in the coming weeks? It looks like fans' wishes have already come true!
Emmerdale airs weeknights at 7pm on ITV, with an extra episode at 8pm on Thursdays.
Get the latest updates, reviews and unmissable series to watch and more!
Thank you for signing up to Whattowatch. You will receive a verification email shortly.
There was a problem. Please refresh the page and try again.