Emmerdale star Emma Atkins, aka Charity Dingle: I'm always having a giggle with DI Bails actor!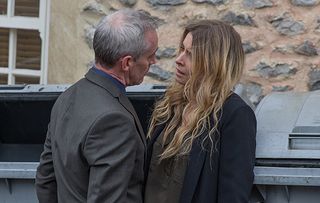 They might be arch enemies on screen, but in real life Emma Atkins' relationship with the actor Rocky Marshall, who plays DI Bails, couldn't be more different…
As Charity Dingle takes to the stand in a bid to get justice for the abuse she suffered as a teenager at the hands of evil DI Bails, the years of hatred between the characters is about to reach boiling point. Charity's about to bare her soul in front of a judge and jury, but while it remains to be seen if her words will be enough to see Bails thrown into jail, actress Emma Atkins has admitted that when the cameras stop rolling, Rocky couldn't be nicer…
"He's brilliant, I just love him so much," says the Emmerdale actress about co-star Rocky Marshall. "He's a wonderful actor and such a great team player. We always have a real giggle between takes, too."
Rocky plays his evil on-screen alter-ego to perfection, creating drama and suspense wherever he goes… "Ah, but that just shows what a brilliant actor he is," laughs Emma. "When you know Rocky, you will know he has a gorgeous personality. He's totally nailed it as Bails and is nothing like him in real life."
But Rocky isn't the only co-star whose praises Emma has been singing… "James Moore is amazing as Ryan," says the actress. "I love that he's gobby and sharp, and has these great comebacks when Ryan's chatting to Charity… it is almost like elements of her shining through in his character."
Emma is also a big fan of actress Eithne Browne, who plays Irene Stocks. The actress arrived in the soap earlier this year as Ryan's adoptive mother and Emma has been thrilled to work alongside her… "She's just incredible," gushes the Emmerdale star. "She is perfect as Ryan's mother and I love her. I hope she comes back for more scenes because she's so good. Charity really respects her and would never want to step on her toes when it comes to Ryan."
Emmerdale continues on ITV.
Get the latest updates, reviews and unmissable series to watch and more!
Thank you for signing up to Whattowatch. You will receive a verification email shortly.
There was a problem. Please refresh the page and try again.