Emmerdale star Michelle Hardwick thanks fans after Vanessa's 'death'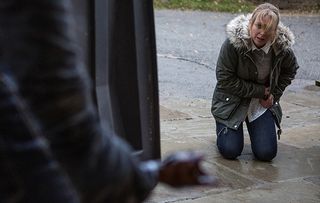 Emmerdale actress grateful for emotional support from viewers for Vanessa, after she's left fighting for her life after being viciously stabbed
Emmerdale star Michelle Hardwick has thanked fans for their outpouring of love towards her chacter after Vanessa Woodfield was stabbed in dramatic scenes last night.
Following huge praise from fans over her acting skills and messages from viewers hoping Vanessa would survive, Michelle, 42, declared: "Thanks for all the Vanessa love tonight you lovely lot."
Emmerdale fans are now hoping the vet will pull through after Lachlan's dad Donny Cairn horrifically plunged a broken bottle into her stomach.
"You've got to be kidding me," said Vanessa as she looked in horror as Donny poured petrol over The Woolpack.
She raced out to confront Donny, shouting: "What do you think you're doing? Did you not hear me!"
Donny replied: "Get back in your car and drive away while you still can."
Vanessa then pretended to walk away before bravely leaping on Donny only for him to stab her - an incident which leaves the village reeling tonight.
Some fans are already convinced Vanessa is dead, with one tweeting: "RIP, sorry to see you go."
But although Vanessa was rushed to hospital in a terrible state, she's certainly not dead yet.
"Don't you dare die!," tweeted one viewer. "You were brilliant!!! More storylines for Vanessa please."
"Vanessa better pull through and her and charity stay together…" said another.
Now fans are simply desperate to see what happens next and whether Vanessa will pull through or not.
Michelle appeared on Loose Women earlier this week to talk about the horrifying scenes. And she dropped a big hint that Vanessa would be OK, saying: "I love getting my scripts – it's like reading a book and is dead exciting to find out what is happening next.
"I don't go and see the boss often to find out what is happening, I like reading it. But I'd like to think I would be told if (I was being killed off). Normally if it is the end of your character you would be taken upstairs and told…"
Hopefully this means Vanessa will recover.
Emmerdale continues tonight on ITV at 7pm.
Get the latest updates, reviews and unmissable series to watch and more!
Thank you for signing up to Whattowatch. You will receive a verification email shortly.
There was a problem. Please refresh the page and try again.