Emmerdale star reveals newly-rich Noah Dingle to be targeted by Samson
Noah will pay Samson to stay away from Amelia and baby Esther.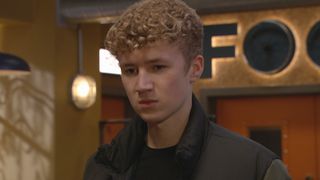 (Image credit: ITV)
Emmerdale actor Jack Downham has lifted the lid on a new storyline for Noah Dingle, which will see his character hand over thousands of pounds to Samson in a bid to keep him away from Amelia Spencer and baby daughter Esther.
Samson, who is Esther's biological father, has long insisted he wants nothing to do with the child, who is the product of his and Amelia's one night stand.
Shortly after Esther's birth, he even rang Social Services to try and get Esther taken into care in Emmerdale.
Amelia's boyfriend Noah has since raised Esther as his own, and the trio have become a family unit. However, this week's episodes see Samson curiously want to spend time with his daughter.
Amelia is encouraged by his apparent change of heart, but Noah thinks his relative is up to something...And he's absolutely right. Viewers have seen that Samson's interest was noticeably piqued when village gossip Brenda Walker recently revealed that Noah was in possession of a trust fund, set up for him by his aunt Zoe Tate.
In scenes to air next week, Noah will be manipulated by Samson into paying him to stay away, and will hand over two thousand pounds.
Reveals Jack, "In Noah's mind, Samson's behaviour definitely seems like too much of a u-turn.
"Noah was there when Esther was born, and he has been raising her and putting effort into her. When Samson all of sudden wants to get really involved and wants to look after Esther by himself, it's a big shock to Noah, and I think he also feels quite a lot of jealousy.
"I don't think Amelia fully understands his concerns. She just wants Samson to be involved in Esther's life and wants the 'real' dad to be there for her kid. So she does think he's being a bit jealous, and dismisses the fact he's worried."
Speaking of the moment that Noah gives Samson money from his trust fund — which Noah has transferred into an account for Esther — Jack explains that Samson twists things to make it appear Noah is offering the cash, as opposed to Samson outright asking for it.
"Samson does manipulate Noah, and at the time, Noah doesn't realise it," adds Jack.
"Samson says, 'How much is it worth to you for me to stay away?' which, in Noah's mind, is him asking him for the money."
He continues, "Noah is being naive. He thinks that two grand is enough to pay Samson off, but when Samson starts spending the money and realises how little two grand is when you're splashing it about, he sees an opportunity to get more."
Just how much Samson manages to prise out of Noah will be revealed in due course, but Jack has hinted that Noah's actions could prove costly in more ways than one, should Amelia find out what he has done.
"I don't think she'll be okay with it, because of how much she really does want Samson to be involved, and how she's not seeing past this façade that Samson is putting up," adds Jack.
Could Noah's best intentions lead to him losing a lot more than just money?
Get the What to Watch Newsletter
The latest updates, reviews and unmissable series to watch and more!
Alison Slade has over 20 years of experience as a TV journalist and has spent the vast majority of that time as Soap Editor of TV Times magazine.
She is passionate about the ability of soaps to change the world by presenting important, issue-based stories about real people in a relatable way.
There are few soap actors that she hasn't interviewed over the years, and her expertise in the genre means she has been called upon as a judge numerous times for The British Soap Awards and the BAFTA TV Awards.
When she is not writing about soaps, watching soaps, or interviewing people who are in soaps, she loves going to the theatre, taking a long walk or pottering about at home, obsessing over Farrow and Ball paint.