Ex Hollyoaks star Emmett J Scanlan: 'Butterfly is an incredible and brave story to tell'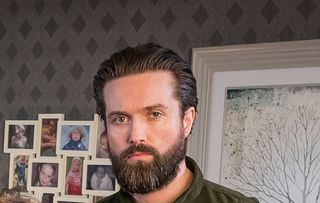 Emmett J Scanlan on feeling a responsibility and a vulnerability as he plays the father of a transgender child in ITV's emotional drama Butterfly
Troubled Max/Maxine's struggles continue in ITV's moving transgender drama Butterfly. But dad Stephen, played by Emmett J Scanlan, is finding it hard to know how to deal with his child's pain and the tensions between him and wife Vicky (Anna Friel) reach breaking point.
Here, former Hollyoaks actor Emmett J Scanlan tells What's On TV about his powerful role in Butterfly…
What's On TV: What was the appeal of Butterfly for you?
Emmett J Scanlan: "I cried in parts at the writing and the characters. I thought it was an incredible and brave story to tell and a relevant thing to explore and to be part of that journey. There's a huge sense of responsibility and a huge vulnerability in putting yourself in this situation. I hope it shines a light on these kids and highlights awareness as a result."
WOTV: How does Stephen feel about the situation with Max/Maxine?
ES: "Stephen has unconditional love for his family but he is terrified. He can't cope with his son identifying as a girl and hopes he will grow out of it. It isn't until his son tries to harm himself that he realises how unhappy he is and that this isn't just a phase…"
WOTV: How does he clash with his wife Vicky over Max/Maxine?
"They talk about the possibility of puberty blockers, which can delay puberty so that Max/Maxine can make up his/her own mind. But they have a difference in opinion as to how best to serve their child. They're both coming from a position of love though and you relate to each of them. They also have a love for each other that has never died but they have an acrimonious, heated, fractured relationship. It's not happy families but it's real."
WOTV: What was it like visiting the transgender charity Mermaids?
ES: "It was utterly humbling to learn about this world and the remarkable children that I had the enormous fortune to meet - these amazingly brave souls and their families who are also affected by it. Meeting these children would take you to your knees. It would break your heart the difficulty they have had to go through. "
WOTV: Did you enjoy working with Callum Booth-Ford who plays Max/Maxine?
ES: "Yes but he had a swear box on set for the cast and crew and I ended up in three figures! The worst thing is when I curse and then I curse again to say sorry for cursing. But all the money he's raising he's going to give to Mermaids - and it'll come straight out of my account."
WOTV: And how about working with Anna?
ES: "There were about three occasions where Anna and I almost worked together before and apart from being a beautiful person inside and out and a beautiful actress, she really has nothing going for her! But she does make me laugh."
Butterfly continues on Sunday on ITV at 9pm
Get the latest updates, reviews and unmissable series to watch and more!
Thank you for signing up to Whattowatch. You will receive a verification email shortly.
There was a problem. Please refresh the page and try again.