Endeavour's Roger Allam teases an epic final episode twist
Endeavour star hints at big surprises to come in the last-ever instalment of the Inspector Morse prequel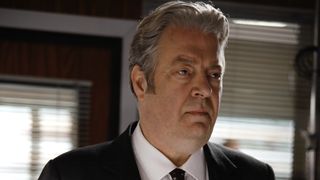 (Image credit: Mammoth/ITV)
Endeavour is drawing to a close forever this Sunday and viewers are on tenterhooks over what lies in store for savvy DS Endeavour Morse (Shaun Evans) and his stalwart boss, DCI Fred Thursday (Roger Allam).
We are promised a thrilling ending to the Inspector Morse prequel, as Roger Allam has teased that there is a big shock ahead for the detectives, which will have a huge impact on Morse's future.
"I remember years ago, someone saying, 'How do you think it should end?' I hadn't really thought about it, but I said, 'A fantastic, spectacular death for me!",' Allam told us.
"But can that happen? There has to be a satisfying reason with an emotional heft as to why John Thaw's Morse [in Inspector Morse] would never, ever mention Fred Thursday. And I think Russ [the show's writer Russell Lewis] has achieved that very well. It was something we talked about a lot. I think it was a couple of years ago that Russell came up with this basic idea. In that time, how the endpoint is reached has changed, but the endpoint is still the same. I'm proud that we got to a certain point and an end that goes forward to Inspector Morse."
So will Thursday really meet his Maker? This week's case involves bizarre deaths that have occurred after they have been announced in the local paper — could things go fatally wrong for the veteran cop as he and Morse investigate?
But danger has also been in the air during the whole season, as Morse has become increasingly persistent about getting to the truth concerning the abuse and police corruption connected to one-time reform home Blenheim Vale.
Dire warnings have been issued, urging them not to delve further into the case, so do Endeavour, Thursday and their loved ones now have targets on their backs? Or will Thursday be shockingly revealed to have had involvement in the dark events at Blenheim Vale?
"There's an awful lot going on with Blenheim Vale and Morse seems to get obsessed with that," teased Allam, whose other recent credits include Murder in Provence.
"Thursday is hugely anti-corruption. But he thinks maybe we're just never going to get to the bottom of this particular one. There has been a thread of corruption that's been there throughout the series, it's just something that goes on..."
Could the apparent separation of Morse and Thursday simply be caused by Thursday's upcoming promotion and move to another station? Or will family matters bring tensions?
Thursday's soldier son Sam (Jack Bannon) has been in a troubled state since leaving military prison after going AWOL during his service in Northern Ireland. Will he pick a fight with Morse?
Meanwhile, Thursday's daughter Joan (Sara Vickers) — Endeavour's former love interest — is about to marry DS Jim Strange (Sean Rigby). Will the wedding go ahead or will Endeavour cause a rumpus that provokes a rift with Thursday?
However the crime drama ends, Allam is thrilled to have been a part of it for over a decade and he will miss the friends he has made.
"There were lots of moving, emotional moments on set during [filming] the series, as you can imagine — the last time you'd be in a particular set, the last time you do something with a particular actor," said Allam.
"We've all been together a long time. I have loved working with Shaun right from the off, we were constantly talking about the material and how we'd do it. I've never experienced with another actor that kind of closeness and ease. There's been great seriousness, but also fun. It has been the most profound pleasure."
Endeavour season 9 ends on ITV1 on Sunday, March 12 at 8 pm and will air in the US on PBS at a later date.
Get the What to Watch Newsletter
The latest updates, reviews and unmissable series to watch and more!
Caren has been a journalist specializing in TV for almost two decades and is a Senior Features Writer for TV Times, TV & Satellite Week and What's On TV magazines and she also writes for What to Watch.
Over the years, she has spent many a day in a muddy field or an on-set catering bus chatting to numerous stars on location including the likes of Olivia Colman, David Tennant, Suranne Jones, Jamie Dornan, Dame Judi Dench and Sir Derek Jacobi as well as Hollywood actors such as Glenn Close and Kiefer Sutherland.
Caren will happily sit down and watch any kind of telly (well, maybe not sci-fi!), but she particularly loves period dramas like Call the Midwife, Downton Abbey and The Crown and she's also a big fan of juicy crime thrillers from Line of Duty to Poirot.
In her spare time, Caren enjoys going to the cinema and theatre or curling up with a good book.