Eurovision fans react after UK act SuRie suffers shock stage invasion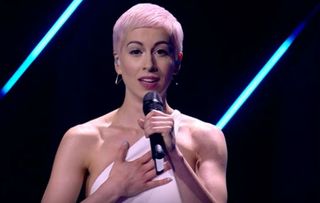 Did you catch all the drama?
The Eurovision Song Contest is known for it's extravagant stage displays, outrageous outfits and huge voices.
But the show was hit by an unexpected drama on Saturday evening as the UK's act SuRie was interrupted by a dramatic stage invasion during her performance.
The vocalist was mid-way through singing her track Storm to the audience in Lisbon when a man - thought to be D.R. ACactivism - ran on to the stage and stole her microphone.
While viewers all watched on in shock, the man was swiftly wrestled from the stage and 29-year-old SuRie carried on her routine without a hitch.
Commentator Graham Norton later confirmed that SuRie declined the offer by show bosses to perform again.
But despite the singer's impressive professionalism as the drama unfolded, the UK ended up finishing 24th in the competition, while Israel's flamboyant performer Netta took the crown.
Which left a lot of fans of the show a little disappointed.
'What happened to the sympathy vote for the stage invasion??? #travesty #Eurovision', said one viewer.
And another wrote: 'What happened?!?!?! Surely we get extra points for a stage invasion? #Eurovison'.
While a third noted: 'And here we are, still at the bottom... #SuRie doesn't deserve this!! #Eurovision'.
Although most people couldn't wait to praise SuRie on her bravery...
Even Eurovision host Rylan Clark-Neal had his say as he praised the 'amazing' show security following the incident.
Rylan fronted the semi-final coverage before pulling out of his co-host role just hours before the final for an unknown reason.
But clearly still watching the coverage, the 29-year-old wrote on Twitter: 'Our girl handled it so well GO @surieofficial YOU SHOWED Europe what we're all about.
'And to the filth that just done that to us, I hope you broke your leg when you were dragged off.'
The Big Brother star then added:'Have to say @Eurovision security has been AMAZING this week honestly second to none.
'For that guy to get on stage he must of been very clever and quick. The Portuguese services that looked after us honestly are amazing.'
Following the whole debacle, SuRie herself has proved just how much of a trooper she is as she took to Twitter with the message: 'Well I've always said anything can happen at Eurovision'.
Get the latest updates, reviews and unmissable series to watch and more!
Thank you for signing up to Whattowatch. You will receive a verification email shortly.
There was a problem. Please refresh the page and try again.