Ex Coronation Street star Catherine Tyldesley looks virtually unrecognisable in her new drama 15 Days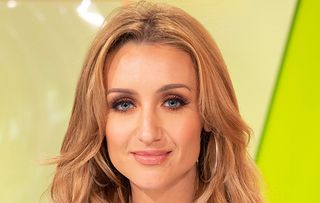 (Image credit: ITV/REX/Shutterstock)
Former Corrie actress reveals all about her new Channel 5 crime thriller, which starts tonight at 9pm
Sporting messy dark curls and a make-up-free face, Catherine Tyldesley is virtually unrecognisable from her days as Corrie's Eva Price in her new four-part crime drama, 15 Days.
And not only has Catherine got a completely different look – as her character, Sara, is from Wales, she's had to take on a Welsh accent, too!
The thriller kicks off with a brutal murder, before rewinding 15 days as estranged siblings Sara, Nia [Mali Tudno Jones], Gareth [Geraint Morgan] and Rhys [Tom Rhys Harries] reunite at their family farm in Wales to scatter their mother's ashes – and it's soon clear everyone has a motive for the killing.
TV Times met ex Coronation Street favourite Catherine Tyldesley, 35, in Cowbridge, near Cardiff, where, during a break in filming, she gave us clues about what to expect in 15 Days…
This is very different from Corrie. How would you describe it?
Catherine Tyldesley: "It's based around this family who have come back together because their mother has passed away and they are all eager to see what is happening with the will. My character Sara had a close relationship with her father, who died five years earlier, and she believes she may well inherit the family farm now her mum has passed away, too. It's of great sentimental value to her, whereas with some of the other family members, it's just about the money."
There are dark family secrets, too, including Sara's husband, Michael, having an affair with her sister…
CT: "Yes, Michael [Silent Witness' David Caves] is a very aggressive, controlling person and she's aware she can't trust him. There are a lot of things going on within the family – the dynamics are great!"
So any of them could be the killer?
CT: "Yes, there are various reasons for any one of them to have committed the murder! There are lots of twists – it's one of those dramas where you finish one episode and go, 'I need to watch more!' I think people are going to be hooked."
How did you find learning to speak with a Welsh accent?
CT: "My little boy [four-year-old Alfie] has been practising with me and his Welsh accent puts mine to shame! But it's driving my husband mental because I've been constantly talking in a Welsh accent. He's like, 'I think you've got it now, it's fine!'
How does it feel to be embracing a different look, too?
CT: "Eva was all The Only Way Is Essex glam, so it has been nice to strip it back a bit. It's great, because what you want as an actress is variation."
When you left Corrie, you talked about going travelling in your camper van with your family…
CT: "We've done quite a bit of that, yeah! We make a real point of going off together whenever we have a free weekend, because there's so much of the UK we've not seen yet!"
Do you still keep in touch with any of your Corrie friends?
CT: "We're all still really close. People ask if I'd ever go back but at the moment I want to focus on other things [Catherine is currently filming new BBC1 comedy Scarborough, from Benidorm creator Derren Litten]. But I'd never say never…"
15 Days is on Channel 5 from Monday 13th May at 9pm.
Main picture of Catherine Tyldesley: ITV/REX/Shutterstock
Get the What to Watch Newsletter
The latest updates, reviews and unmissable series to watch and more!
Ian writes about TV and film for TV Times, What's on TV and TV & Satellite Week magazines. He co-hosts the weekly TV streaming podcast, Bingewatch.