Ex Coronation Street star Sherrie Hewson goes caravanning: I end up revisiting the legendary waterbed scene!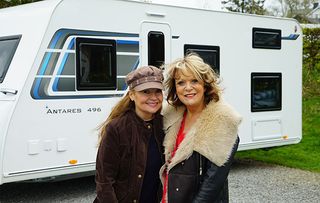 How will Benidorm star Sherrie Hewson get on when she takes a caravan trip with four other celebrities? Well, Sonia and a hot water bottle added up to the famous waterbed scene - minus Reg Holdsworth!
After seven years of keeping a watchful eye on troublesome holidaymakers at the Solana as Benidorm's no-nonsense hotel manager Joyce Temple-Savage, Sherrie Hewson is now experiencing a fun-filled break of her own in Celebrity Five Go Caravanning on Channel 5.
The four-part travelogue, which starts tonight, sees former Coronation Street star Sherrie join pop singer Sonia, ex Doctor Who star Colin Baker, DJ Tony Blackburn and fomer EastEnders star Todd Carty for a hilarious staycation, as they tow a pair of caravans around the UK, starting with a trip around the Lake District...
Here, in an exclusive interview with TV Times, Sherrie Hewson tells all about their holiday highs and lows…
What was the appeal of the show for you?
Sherrie Hewson: "As a child we always caravanned in Skegness and I thought it was wonderful. It was like a secret world where you'd open the door and everything was smaller, like a doll's house. That was magic when I was young. Now, however…"
Was it not quite what you expected then?
SH: "I've never laughed so much but we have lots of incidents! We all found the towing difficult. They said I did well but the caravan's bigger than the car so I left most of that to Colin. But you do see us bump into a wall and puncture the caravan tyre!"
How did you find living in the caravans?
SH: "They were tiny and the boys were in one caravan with bunk beds. I was with Sonia and we didn't have any water so the loo and shower didn't work and neither did the heating and we were freezing. Sonia made me a hot water bottle but forgot to tie the lid on tight and I woke up soaked in a bed full of water. It was like revisiting the waterbed scene from when I was in Coronation Street but without Reg Holdsworth in the bed!"
Did you all bond as a group though?
SH: "Oh yes there was great camaraderie and some stories we told can't be televised! Sonia became like a daughter, Colin has the same acerbic humour as me, and Tony's the funniest person I've met. He's jolly 24 hours a day and he actually says those Smashie and Nicey-type phrases. One night we all had too much to drink and he sang YMCA! He had a lovely bromance with Todd too. We're still on WhatsApp daily and we're going for lunch soon."
What were the most memorable places you visited?
SH: "What a beautiful country we live in. We travelled miles every day - and got lost every day! The Lake District was astounding and in Yorkshire we went on a steam train and visited one of the oldest and tiniest theatres in the country. I haven't cycled for about 25 years and in Cornwall they put me on a bike but I couldn't balance and got scared. But we ended up in an incredible vineyard with a bottle of rose. We also did pilot gig racing but I have a bad back so it was not my thing. Poor Sonia, who's about half the size of an oar, did it. But she nearly ended up in the water!"
By the end, had you got the caravanning bug again?
SH: "No! We enjoyed everything they threw at us but it's not for the faint-hearted. My grandchildren would've loved it. But I'm too long in the tooth to put up with loos that don't work. You don't find that funny after the third day!"
How would Joyce Temple Savage fare in a caravan?
SH: "Joyce wouldn't even go into the caravan park. It's not a Joyce place at all. She'd hate the basic facilities!"
Ha! Back in the 1970s you starred in Carry on Behind. How did this experience compare?
SH: "On that, the girls were in a tent and the men had a caravan, which was even more basic than the one in this. In Carry on Behind, the ground collapses and the caravans fall into a hole. I was reminded of that scene when we had to uncouple the caravans and secure them to the ground in this. Someone did it for us one day while I went to the loo but he took his foot off the stabiliser and I went flying backwards through the caravan!
Finally, what's next for you?
SH: "I've just filmed Celebrity Antiques Road Trip with Tony Maudsley, who plays Kenneth in Benidorm, and it was hysterical. Then we start rehearsals for the Benidorm stage show. It'll run from September until May. The script's wonderful and the audience can get up and do karaoke with us in the Neptune's set! I've had such a fun year. I worry about growing older but laughing as much as you can helps. So does wine!"
* Celebrity Five Go Caravanning starts tonight on Channel 5 on at 8pm.
Get the What to Watch Newsletter
The latest updates, reviews and unmissable series to watch and more!
Caren has been a journalist specializing in TV for almost two decades and is a Senior Features Writer for TV Times, TV & Satellite Week and What's On TV magazines and she also writes for What to Watch.
Over the years, she has spent many a day in a muddy field or an on-set catering bus chatting to numerous stars on location including the likes of Olivia Colman, David Tennant, Suranne Jones, Jamie Dornan, Dame Judi Dench and Sir Derek Jacobi as well as Hollywood actors such as Glenn Close and Kiefer Sutherland.
Caren will happily sit down and watch any kind of telly (well, maybe not sci-fi!), but she particularly loves period dramas like Call the Midwife, Downton Abbey and The Crown and she's also a big fan of juicy crime thrillers from Line of Duty to Poirot.
In her spare time, Caren enjoys going to the cinema and theatre or curling up with a good book.