Ex-Emmerdale star Sophie Powles stars in a new sci-fi musical Fanatical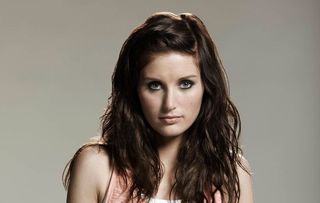 The actress, who played Moira Barton's doomed daughter Holly, is appearing in a new musical set around a sci-fi fan convention.
Ex-Emmerdale star Sophie Powles, whose ill-fated character Holly Barton was killed-off in a shock drug overdose twist, is taking to the stage in a new musical Fanatical, about a fictional sci-fi TV series and the fans who love it.
"I play Andra and she's a huge fan of the TV series Angel 8 fan," Sophie reveals during an interview with the podcast Strong Female Leads. "She's obssessed with it, she loves the lead female pilot character Iris and loves to cos-play as her.
"In every day life, Andra is not the most confident or out-going person. But when she's cos-playing as Iris and going to these fan coventions, that's where she comes alive and finds her voice."
The musical centres on the first-ever UK fan convention for Angel 8, as fans gather hoping to catch a glimpse of their favourite characters or perhaps a sighting of the reclusive British author Scott Furnish, who created the original comic that was turned into the TV series.
But as Sophie points out, you don't have to be a sci-fi fan to enjoy Fanatical.
"There's a bigger message that's carried in the form of a sci-fi musical," she says. "The message is about including everyone, showing kindness and being open-minded and non-judgemental. Everybody's welcome in that world. Just be you, come and have fun!"
Fanatical runs at The Playground Theatre in London from 15th November to 8th December
Get the latest updates, reviews and unmissable series to watch and more!
Thank you for signing up to Whattowatch. You will receive a verification email shortly.
There was a problem. Please refresh the page and try again.