The Fall's Jamie Dornan: 'I take great joy in entering Spector's sinister mind and spending time there'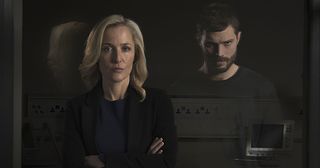 (Image credit: BBC/The Fall 3 Ltd/Des Willie)
The Fall picks up from the series 2 cliffhanger where serial killer Paul Spector was left fighting for his life in the arms of his nemesis, detective Stella Gibson. How does he survive? Is justice served? Stars Jamie Dornan and Gillian explain
The last series of The Fall culminated in the cliffhanger to end all cliffhangers as twisted serial killer Paul Spector (Jamie Dornan) was left fighting for his life in the arms of his nemesis, Detective Superintendent Stella Gibson (Gillian Anderson).
The evil bereavement counsellor had finally been arrested and had confessed to murdering several young women in Belfast, when he was suddenly shot by a gangster, one of his former clients.
After an agonising two-year wait, the series returns to BBC2 on Thursday (September 29) for a third run and it appears that, against the odds, Spector is back too.
We last saw Spector fighting for his life… do you think viewers will be surprised to see him back? Jamie: "A lot of people are intrigued that I am still in it. I've had fun toying with them when they ask how that can possibly be. None of them has a clue what will happen. There are lots of twists and turns that I don't think the audience will see coming. Even I didn't really know what was going to happen although we talk all the time about the outcome."
What's in store for Spector this series? Jamie: "He is not in good shape, so there is a lot of hospital action. But Spector is like a wild animal, they don't like it when they are backed into corners, regardless of their physical state, so that leads to very interesting actions.
"Each season has opened up different elements of Spector and this series has an interesting twist for him that needed me to research further, because extra juicy horrific things have been thrown into his mind.
Will Spector continue to make Gibson's life difficult? Jamie: "He wants to be in control of every situation no matter the obstacles in his way. If there is a way of winning or of making Stella's life more difficult he will explore that. So there is more cat and mouse, but the parameters are changed."
How's Gibson feeling about being so close to putting Spector behind bars? Gillian: "The complex interaction between Spector and Gibson has been at the heart of the series since it began.
"Spector is right where she wants him, but on the other hand she is obsessed with bringing him to justice for the victims' families and getting closure, so if he dies it would be devastating for everyone. It has stalled everything and put a lot of things into question. The consequences of what has transpired have far-reaching, complicated and infuriating repercussions that play out in different ways throughout the series."
Will we get to find out more about Gibson's intriguing personal life this series? Gillian: "Gibson has made morally ambiguous decisions and there may be repercussions, but you'll also see more glimpses of Gibson's past that reveal a lot about who she is. She's so used to being in control so when she is not it destabilises her and manifests itself unhealthily and an extreme tension builds in her."
How do you feel about The Fall coming to an end? Jamie: "A massive part of me will miss The Fall. This job has changed my life immeasurably and every positive thing that has happened is because of it. Also, as horrible a character as Spector is, I take great joy in entering his sinister mind and spending time there. I certainly wouldn't shy away from playing a villain again, but whether I'll get the chance to play someone as well crafted as Spector again, I'm not sure."
There are rumours that the show could be rebooted in the future with Gibson investigating another case… Gillian: "There are lots of aspects of Stella that would be fun and interesting to spend more time with. But what excites me more than going straight on to do another one is what if we were to pause and come back in three or four years and see where she is? It feels like it might be a good idea to do it again."
Get the latest updates, reviews and unmissable series to watch and more!
Thank you for signing up to Whattowatch. You will receive a verification email shortly.
There was a problem. Please refresh the page and try again.