Fans get Top Gear fix on Dave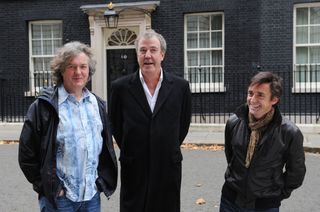 (Image credit: PA Wire/Press Association Images)
With the future of Top Gear in crisis following the sacking of co-presenter Jeremy Clarkson, it seems fans have been looking beyond the BBC to get their fix of the popular motoring show.
Fans suffering from withdrawal symptoms after the BBC cancelled the latest series in the middle of its run last month have been flocking to digital channel Dave.
The only UK channel to still screen the show, Dave's repeat showings of the programme featuring Clarkson, and his co-presenters Richard Hammond and James May, have received a 50% rise in viewers.
Dave has aired old episodes for up to ten hours a day, drawing the viewers in with the tagline: "The only place to watch Top Gear."
Before the furore, Dave's repeats attracted around 300,000 viewers, but now the episode which is screened in Top Gear's old Sunday night slot is pulling between 460,000 and 500,000 fans.
A source at the station, which is half-owned by BBC Worldwide, said: "We are getting more and more viewers tuning into to get a fix of Top Gear - it just goes to show how popular this show is that these repeats are proving hugely popular.
"It seems a lot of people are desperately missing Clarkson and co on the telly and so are turning to our episodes."
Meanwhile, Clarkson's fans who were hoping to see him front Have I Got New For You in May were disappointed earlier this week when it was announced that the presenter had backed out of the satirical show.
Although he had been sacked, Clarkson was permitted by BBC executives let the 54-year-old front the satirical news quiz Have I Got News For You .
It seems Clarkson had second thoughts after recalling the stick that former host Angus Deayton received from his fellow panellists in 2002 following allegations about his private life.
"Basically Angus got slaughtered and Clarkson suddenly realised he would be in the firing line himself," a source told the Daily Mirror. "He would be in a no-win situation."
Dave is available on Sky and Freeview.
Get the latest updates, reviews and unmissable series to watch and more!
Thank you for signing up to Whattowatch. You will receive a verification email shortly.
There was a problem. Please refresh the page and try again.