Fans are 'not shocked' that Fessy screwed over his ride-or-die Moriah on The Challenge
Things deteriorated quickly between Fessy and Moriah, The Challenge partners, during this week's elimination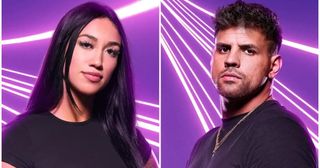 (Image credit: MTV)
Messy Fessy is back, folks!
It's no surprise that controversial The Challenge competitor Faysal "Fessy" Shafaat would be out for revenge after the last episode when his former Ride or Die partner Moriah Jadea unknowingly burned her vote and ultimately sent her teammate into The Zone against Nelson last episode. Sure, Fessy ended up winning that elimination, but given his shady The Challenge past, we knew he wouldn't be happy just returning to the house — he would have to make sure Moriah was the next one sent packing.
Seeing as how this week's competition was a women's elimination, Fessy got his shot. After a long multi-event relay that included competitors having to slingshot targets, drink disgusting smoothies and solve giant tangram puzzles, Fessy's vet-heavy Pink Team cumulatively wins over the Yellow Team, which means that that team's women players (Moriah, Nany and Amber) are all up for deliberation.
Nany and Amber both have the protection of romantic relationships with fellow The Challenge cast members on the opposing team — Kaycee and Chauncey, respectively— so the likelihood of them being the direct votes was low. That leaves rookie Moriah, who has yet to enter an elimination this season and is unceremoniously thrown under the bus by Fessy during deliberation.
"It's gonna be difficult for me to say Moriah's name obviously but, like, I thought if anybody would have my back up there it would be Moriah last week when she could have tied the votes up and made someone else change their vote but it's like damn, if I can't count on her to save my ass, then who can I?" he says.
When Moriah joins the Pink Team in the interrogation room, he tells her: "We lost all communication. When you had a chance to save me, you burn-voted and then that sent me in." "I'm not gonna be like, 'Sorry I did that, don't do it to me.' It's what you think in your heart is best in your game," she tells him.
"There's no shot in hell that I would treat my Ride or Die in this way," Johnny says of the Fessy-Moriah drama.
Unsurprisingly, Fessy sways enough of his team to have Moriah as the direct vote into The Zone. Nany and Amber choose a dagger to decide who is joining her, with the latter pulling the safe dagger, sending Nany into elimination.
A combo puzzle that included memorizing and unscrambling lettered tiles, the elimination challenge sees Nany finish first but she forgets to hit the buzzer in time. "Moriah and I hit the buzzer probably a millisecond apart, so I'm panicking a little bit. I'm thinking that maybe I lost this elimination," Nany worries.
Though Moriah hit the buzzer first, she realized that she spelled one of the words wrong, giving Nany the win. "I definitely made a rookie mistake," Moriah jokes.
Though she's down, she's not entirely out, as host T.J. Lavin informs her that so long as her Ride or Die partner Fessy is still in the game, she still has a shot at that million-dollar cash prize.
"Fessy, I'm mad at you and I have a lot of words to say to you, but please stay in the game because I really want to be there," she says.
Fans react to Fessy and Moriah on The Challenge:
Get the latest updates, reviews and unmissable series to watch and more!
Christina Izzo is the Deputy Editor of My Imperfect Life. More generally, she is a writer-editor covering food and drink, travel, lifestyle and culture in New York City. She was previously the Features Editor at Rachael Ray In Season and Reveal, as well as the Food & Drink Editor and chief restaurant critic at Time Out New York.
When she's not doing all that, she can probably be found eating cheese somewhere.
Thank you for signing up to Whattowatch. You will receive a verification email shortly.
There was a problem. Please refresh the page and try again.