TOWIE star Ferne McCann unveils her new nose on This Morning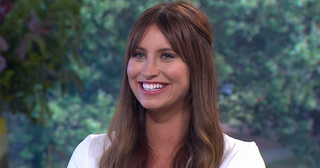 Trolling was only part of the reason Ferne McCann decided to undergo a nose reconstruction, she revealed in an emotional interview on ITV's This Morning
TOWIE star Ferne McCann unveiled her new nose live on This Morning on Monday and said: "I didn't do it for Twitter trolls."
The reality TV star, 26, who is also a showbiz reporter on This Morning told hosts Eamonn Holmes and Ruth Langsford that it was something she first made steps to do when she was 18.
Talking live in studio for the first time since making the change to her appearance, Ferne said: "It is subtle and I wanted it to be subtle… I didn't want to change my whole face, that was one of my biggest fears. It was just, I think, one thing that has bugged me my whole life, especially when I was a teenager. I got teased at school – boys used to call me goose – and that made it become an insecurity."
She added: "For me, when I look in the mirror, from the front it looks very similar to what it was before, but the profile, the bump's gone and it is completely different... Twitter trolls didn't help, but I didn't do it for them."
Ferne had delayed the operation because she was afraid it would upset her mother, Gill, but Gill messaged This Morning today and said: "All I ever want as a mummy, is for Ferne to be happy and to enjoy her life to the fullest. So if this meant changing her nose slightly then so be it. I think she's stunning. This won't change Ferne as a person. I really admire her and support her courage to go through with this and she's still my beautiful little girl and always will be."
An emotional Ferne responded: "Me and my mum are so close, I'm her baby and I didn't want it to upset her."
She added: "It was a very considered decision… My first consultation was at 18, but I felt too young then. Some might see me as a role model in the public eye and I want to be completely open and honest... It's not a decision to make light heartedly. Wait until you're an adult. In the end, it was a personal thing and it was just a bump on my nose that I wanted to get removed, and I don't know why I'm so emotional, but I'm happy to be back."
Get the latest updates, reviews and unmissable series to watch and more!
Thank you for signing up to Whattowatch. You will receive a verification email shortly.
There was a problem. Please refresh the page and try again.