Fifty Shades star Jamie Dornan is back on BBC Two in period drama Death and Nightingales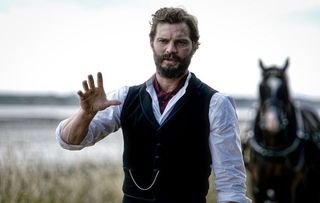 Jamie Dornan has reunited with the writer/director of The Fall for his role in BBC Two's new period drama Death and Nightingales.
Jamie Dornan has reunited with Allan Cubbitt, the writer/director of BBC Two's The Fall for his latest role, who he credits with giving him his first big TV break as family man and serial killer Paul Spector in The Fall opposite Gillian Anderson.
When the BBC were originally looking for a bigger-name leading man for The Fall, Allan told them there was no series without Jamie. And after he sent Jamie's audition tape to co-star Gillian and got her approval, the deal was sealed and he went on to appear in all three series of crime-drama.
"If Allan wants me to do anything for the rest of my career then I will do it because in many ways he gave me my career," says Jamie who has since appeared in the Fifty Shades franchise and current action flick Robin Hood. "He cast me in The Fall and he had to very much fight for it. That changed my professional life in a huge way; I'm eternally indebted to him.
"When Allan came knocking for Death and Nightingales and I knew quite far in advance he was writing it with me in mind and I felt very lucky. It's a lovely thing to be back working with him again."
https://www.youtube.com/watch?v=SLR8tFfT9NY
Jamie stars as the mysterious Liam Ward in BBC Two's period drama, Death and Nightingales, which is a three-part adaptation of the book by Irish writer Eugene McCabe set in Northern Ireland during the late 19th century.
Set over 24 hours, Death and Nightingales centres on Beth Winters (played by Ann Skelly) who plans to run off with the charming Liam Ward on the day of her 23rd birthday, much to the anger of her strict landowner father Billy (played by The Americans star Matthew Rhys). Valene Kane, who played Paul Spector's ex-girlfriend Rose Stagg in The Fall appears as Beth's mum, Catherine.
Death and Nightingales begins Wednesday 28th November on BBC Two
Get the latest updates, reviews and unmissable series to watch and more!
Thank you for signing up to Whattowatch. You will receive a verification email shortly.
There was a problem. Please refresh the page and try again.