Film review | Bed & Breakfast: Love Is a Happy Accident - Rom-com serendipity strikes again!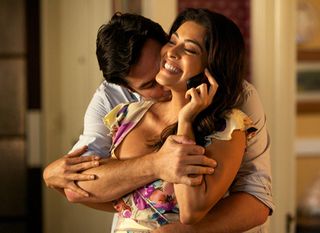 Dean Cain's laidback handyman Jake and Juliana Paes' sultry visiting Brazilian Ana both lay claim to a guesthouse in California wine country in Bed & Breakfast: Love Is a Happy Accident. Sparks fly as they dig in their heels, but we're in familiar romantic-comedy territory, too, so you know the antagonists will end up falling in love. Cain and Paes are likeable and the story bumbles along pleasantly enough, but the plotting is lazy and the broad playing of the supporting characters tips them into caricature. Jake's Latina maid thinks Ana's mannered lawyer is 'light in the loafers'. But, no, he's not gay; he's just English. To remind us what a real gay stereotype looks like, Eric Roberts checks in late in the day to deliver a brief, borderline offensive cameo as a mincing hotel critic.
Bed & Breakfast: Love Is a Happy Accident screens on Sky Premiere HD from Friday 19th April. http://youtube.com/v/QF6BbX4_qbE
Get the latest updates, reviews and unmissable series to watch and more!
Thank you for signing up to Whattowatch. You will receive a verification email shortly.
There was a problem. Please refresh the page and try again.