First look at this week's drama on The Voice as Paloma Faith and Boy George clash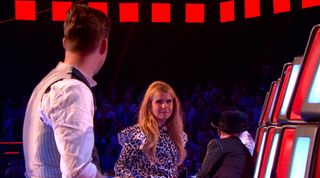 This weekend's episode of The Voice will show an explosive on-air argument between coaches Paloma Faith and Boy George.
Pictures from the episode show the moment Paloma is reportedly made to cry by Boy George after she pretends to fall asleep during his pitch for a contestant.
Paloma pretends to be asleep (BBC One)
The drama unfolds as former Liberty X star Kevin Simm auditions in a bid to kickstart his career.
Boy George tells him: "There are a lot of big voices in the show. You sit and you think no one can be better than that, then suddenly someone sings. It's just constant surprise. One thing that I do know is that I understand singers. That's my forte."
Boy George is not amused by Paloma's actions (BBC One)
Paloma pretends to be asleep on the table in front of her as Boy George is talking to Simm.
An irritated Boy George hits back, saying: "Excuse me, Palaver," to which she replies: "Is it finished, is it time for us to wake up?"
The Culture Club singer tells his fellow coach it's 'extremely rude' (BBC One)
Their exchange heats up as the Culture Club singer retorts: "That's extremely rude. Very rude. Anyway, you're amazing Kevin."
Faith then tries to make her own bid for Simm, but things get tense when Boy George tells her one thing she has not done is have a hit in America.
Ricky Wilson watches the spat unfold (BBC One)
Reminding her that he has 'had a few', he then urges Simm to choose him as his coach, but tensions reach a head as Paloma runs off stage.
A source said BBC bosses have had to tone down the episode to make it more family friendly following the row.
The Voice screens on BBC One on Saturday at 7.45pm.
Get the latest updates, reviews and unmissable series to watch and more!
Thank you for signing up to Whattowatch. You will receive a verification email shortly.
There was a problem. Please refresh the page and try again.