Four SCARY facts about women in work in the 1960s as BBC2 screens Back in Time for the Factory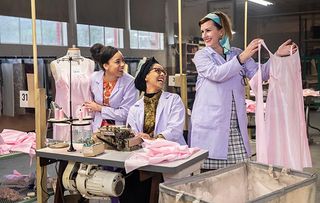 (Image credit: BBC/Wall to Wall Media Ltd/Warre)
Men were paid more than twice as much!
Life in the 1960s was anything but swinging for female factory workers. They did a hard day's work for unequal pay and went home to the cooking and cleaning.
In new BBC2 series Back in Time for the Factory, presenter Alex Jones turns back the clock so 20 women can experience life on the production line of a clothes factory in Wales in 1968 (future episodes are set in the 1970s and 1980s).
They sit at the same industrial machines used in the 1960s, wear the clothes of the era and adhere to the same factory targets and rules, such as 'no foul language'.
Getting to grips with the old-fashioned machinery is one thing, but learning that a man is receiving a higher wage for a less-skilled job does not go down well with the 21st-century ladies.
Four facts about employment for women in the 1960s…
1. In 1968, the average weekly wage was £21 for a man and £10 for a woman.
2. Over half the population were manual workers in the 1960s. Women were rarely categorised as skilled by their employers because it would have meant paying them more.
3. Pregnant women were routinely sacked regardless of how much of an asset they might be to a company. They received no maternity pay and didn't have a job to come back to.
4. As well as their job, women did three and a half hours more housework every single day than men.
Back in Time for the Factory starts on Thursday 6th September on BBC2 at 8pm.
Get the latest updates, reviews and unmissable series to watch and more!
Thank you for signing up to Whattowatch. You will receive a verification email shortly.
There was a problem. Please refresh the page and try again.