Fresh Meat's Joe and Kimberley: 'The gang are back, though Josie's in Southampton'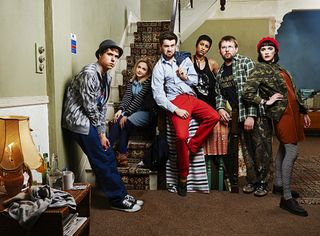 (Image credit: Ray Burmiston)
The on-off romance between Kingsley and Josie has been the feelgood filling in Fresh Meat's hilariously unappetising student sandwich.
As the E4 comedy-drama's six house-sharing undergraduates prepare to commence their second-year studies in series three on Monday, November 4, TV & Satellite Week asked Joe Thomas and Kimberley Nixon, who play them, for a progress report…
How are Kingsley and Josie getting on as we rejoin the Fresh Meat gang?
Joe: "Kingsley is in a state of denial, carrying on like everything's all right and playing it cool. He often pretends that he's above worldly affairs, but he's very neurotic at heart and in quite a fragile condition at the start of the series."
Kimberley: "Josie is now studying zoology in Southampton and trying to make out that she's having the time of her life. But in fact she hates it in Southampton and she hates zoology. She's also off the booze and back to her old self."
How's the Josie, Kingsley and Heather love triangle shaping up?
Joe: "Kingsley has still got this issue of who we wants to be with between Heather and Josie, that he's not really solving. Basically he's burying his head in the sand."
Kimberley: "Josie left her heart in Manchester with Kingsley. It gets quite complicated, as Kingsley thinks he's broken up with Heather, but Heather's not fully aware of that so she is not completely out of the picture and it all gets a bit messy and dangerous."
What's happening in the Manchester house?
Kimberley: "We've got a new housemate called Candice. She's a good Christian girl who's come to university to study, and Oregon and Vod corrupt her as best they can."
Joe: "All the old gang apart from Josie are back in the house. Vod and Oregon come back after travelling, and Josie communicates with the housemates on an iPad, so she's like a little robot living there."
Now they are second years, have they grown up at all?
Joe: "I'd have to say I don't think they're that much more grown-up. They've become more complicated, but they're still not really dealing with their underlying issues."
Kimberley: "I think they have grown up slightly. The biggest change is realising all their actions have consequences. They still make terrible decisions and do stupid things, but there's more of a sense of 'I think I just hurt another human being and that doesn't feel very nice.'"
Does working on Fresh Meat bring back memories of university days for you?
Kimberley: "I went to drama school and we worked such long hours that I didn't have that typical four hours a week student experience. In a way I'm now doing it vicariously through being in the series."
Joe: "I had a steady girlfriend for a lot of my time at university, but lots of it is painfully similar. That thing of being thrust together with people you wouldn't normally mix with, but you have to live with."
Do you feel fans of Fresh Meat want Josie and Kingsley to end up together?
Joe: "I think there is a sort of will for them to be together, and it's sad that they keep screwing it up. Kingsley is kind of looking for a wife, but he is still very young. Josie is the only one in the house who is even vaguely well matched with him, personality-wise. Vod and Howard are too weird, JP is too posh and Oregon is too pretentious."
Kimberley: "They are trying to have a relationship, but they're not quite ready for it. Maybe they could do it in about 10 years' time."
Get the latest updates, reviews and unmissable series to watch and more!
Thank you for signing up to Whattowatch. You will receive a verification email shortly.
There was a problem. Please refresh the page and try again.