Gary and Terese announce they're engaged in Neighbours!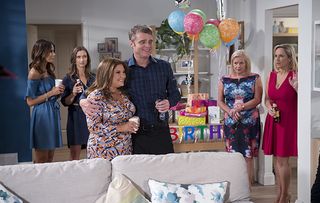 The couple break the news they're getting hitched - leaving friends and family a little stunned!
With preparations for Xanthe's birthday party well underway there's a buzz of excitement in Ramsay Street.
Meanwhile Gary's ex, Brooke, continues to have strong feelings for her former hubby and realises she's more in love with him than ever. So what is she playing at when she convinces him he should make a grand gesture and prove his love for the other woman in his life, Terese?
Is this all part of Brooke's master plan to win Gary back?
One thing is certain, everyone is in for a surprise when Gary suddenly reveals at Xanthe's birthday bash, that he's asked Terese to be his wife! Is it a cause for celebration or concern?
There are stunned faces when Gary reveals he's proposed to Terese and she's said yes!
There are stunned faces when Gary reveals he's proposed to Terese and she's said yes!
A surprise cameo sees Aussie footie star Brendan Fevola make an appearance!
Brooke gets the shock of her life when a client turns out to be Brendan Fevola, who won the Australian version of I'm A Celebrity… last year.
Soccer star Brendan Fevola's arrival in the salon has Brooke and Xanthe in a spin.
Plans are afoot for Xanthe's birthday party…
Teenager Xanthe is about to turn 17!
A hush descends when Gary breaks the news that he's proposed to Terese....
And she's agreed to marry him!
Stunned friends and family are not quite sure whether to clap, laugh, cheer or panic!
But is everything as it seems....isn't this all a bit out of the blue?
He put a ring on it! The happy couple hold hands and smile for the camera....
Terese shows off her ruby sparkler but does she have any idea just what she's letting herself in for? Watch Neighbours on Channel 5 from Monday 22 May.
Get the latest updates, reviews and unmissable series to watch and more!
Thank you for signing up to Whattowatch. You will receive a verification email shortly.
There was a problem. Please refresh the page and try again.