Gemma Atkinson: 'The dancing didn't finish for me and Aljaz after the Strictly final!'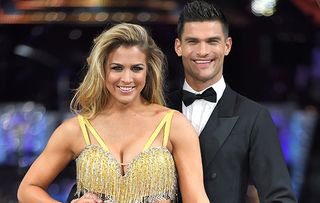 (Image credit: James Gourley/REX/Shutterstock)
Former Emmerdale star Gemma Atkinson talks about being on the Strictly Come Dancing tour and getting the support of her Emmerdale friends
For 12 weeks on Strictly Come Dancing, Gemma Atkinson smashed the Samba, wowed with her Waltz, amazed in the American Smooth, had us cheering with her Cha-Cha. And now the soap star-turned-dancing queen is 'burning the floor' with professional partner Aljaz Skorjanec on the Strictly Come Dancing tour.
"It's brilliant that the dancing didn't finish for me and Aljaz after the Strictly final," Gemma has revealed to Soaplife. 'It's lovely being with so many of the competitors and professionals again – the tour schedule is quite hectic but we're all more relaxed because no one gets voted off and there's no 'bottom-two' dance-off at the end of each night. There's a real sense of camaraderie plus lots of fun and no pressure. It's a win-win!"
Soaplife's interview with Gemma Atkinson
Soaplife: How thrilled were you to make it to the Strictly final, Gemma?
Gemma Atkinson: "Never in a million years did I ever think it would happen. I was so, so happy to get to final. It meant we were there every week and got to dance every dance it was possible to dance – I feel this is proof of just how good a teacher Aljaz is. We took it week by week and just focused on the dances we had to do. The fact that the viewers voted us through each week was amazing."
S: Are we right in thinking you prefer ballroom to Latin dances?
GA: "I love watching Latin but when it comes to dancing myself, ballroom suits me better because I'm tall and have a strong frame. I find it more relaxing to dance."
S: Are you surprised how much you're enjoying dancing?
GA: "I knew I would like it but I actually love it! The dancing, the dresses, the spray tans, the glitter… the whole 'Strictly' experience! I've embraced it 100 per cent. The biggest thing for me, though, even more than the actual performing, has been learning the dances with one of the country's best dancers."
S: Has your body changed since you started dancing?
GA: "Yes, but in a different way to most people who do 'Strictly'. The intensity of training while learning the dances was actually nowhere near what I'm used to doing at the gym. My body is not as lean as it was. Although I was training for several hours a day while I was learning the dances, I wasn't exercising with the same kind of intensity I'm used to with interval training. Learning ballroom was more like a quad-based leg workout than an aerobic one, but I did get a bit sweaty learning and doing the Latin dances."
S: So, you didn't lose weight?
GA: "No – my body went a bit softer. But then that was always going to happen. Going into 'Strictly', I'd just completed a 12-week transformation course in the gym and was the leanest I'd ever been. It's really hard to maintain that and you can't stay like it forever – not if you want to have some fun, too! Aljaz and I didn't stick to a specific diet while we were learning the dances and performing. If we fancied a bit of chocolate then we'd have it and we'd also have a pizza every Saturday night after the show."
S: Are you still doing your Key 103 radio show in Manchester while you're on the Strictly tour?
GA: "No – it would be impossible to do the Breakfast Show in the studio every weekday, although I did it while we were doing 'Strictly' on TV. I don't know how I managed it some days, as I was getting up at 4.30am every day, doing the radio show and then starting rehearsals afterwards. I'd get back home about 8.30pm. Aljaz was very patient with me, as half the time I wouldn't know whether I was coming or going! So, I'm taking some time off from Key, although I'll be ringing in regularly. I start back again on February 10."
S: Do you enjoy the radio work as well as acting – and now dancing?
GA: "It's fantastic! One of the great things about Key is that they've very open to me doing other projects. If any acting jobs or campaigns come my way, they're cool with it. They let me have time off or pre-record stuff. It's a job I love which is just 15 minutes away from my house and I can be a jobbing actress while having the security of a permanent wage in the background. I'm very lucky to be in this situation."
S: Are any of your old Emmerdale mates coming to see you on tour?
GA: "Yeah – Mark Charnock [Marlon], Michelle Hardwick [Vanessa], Amy Walsh [Tracy] and hopefully some others are coming to the Leeds shows. Some of them came to see me in the TV shows in London, too. It's a year since I left Emmerdale but everyone's really supportive of each other's work."
S: What's next for you, performance and acting-wise, after the tour?
GA: "I don't know and that's kind of the way I like it. 'Go with the flow, – that's me. I don't like to plan too much in advance – just so long as I'm healthy and happy."
www.strictlycomedancinglive.com
Main pic: James Gourley/REX/Shutterstock
Get the latest updates, reviews and unmissable series to watch and more!
Thank you for signing up to Whattowatch. You will receive a verification email shortly.
There was a problem. Please refresh the page and try again.