George Clarke's National Trust Unlocked on C4 - start date, format, locations and everything you need to know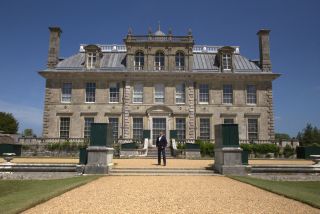 (Image credit: David Ferguson)
George Clarke visits some of the nation's best-loved properties during their Covid-induced closure in a new series...
George Clarke's National Trust Unlocked, his latest series for C4, will see the architect and presenter travelling around the country to visit National Trust properties during lockdown.
Here's what we know about the show.
George Clarke's National Trust Unlocked start date: when does it begin on C4?
C4 have confirmed that the series will begin on Sunday 23rd August at 9pm, and will run for six weeks (see our TV Guide for full listings).
What is it about?
In a normal year, around 27 million visits are made to National Trust properties across the country. However, when the nation went into lockdown back in March, the National Trust were forced to close their stately homes, gardens and parks to the public. During this time, George Clarke was granted special access to some of the trust's properties, getting to see what they look like without crowds of visitors, and even being given a glimpse at areas that are usually off-limits to the public.
"It was surreal," George tells us. "I would turn up at a grand country house somewhere on a beautiful sunny day, where normally you'd have between three and four thousand people there - and there was nobody. My favourite shots of the series are the drone shots - to have a drone flying over these houses and gardens and the only figure in that shot is me is kind of staggering! I felt honoured and privileged to have the chance to do it."
George Clarke's National Trust Unlocked format: what happens in each episode?
Over the course of the series, George will be visiting 24 properties around the the nation, with each episode consisting of two visits to houses, one to a garden, and one scenic walk. George will be joined by a very special guest for all of the walking segments: his Siberian husky, Loki.
"I'm going to have to get him an agent and get him to do a bit of media training so he doesn't misbehave so much!" jokes George. "To be honest with you, he loved it. He loved hanging out with the crew - he just became part of the family, really."
Which properties are featured in the series?
The first episode opens at Kingston Lacey in Dorset, an elaborate country house with equally opulent gardens and grounds. "It's so grand, so ridiculously over the top, and a testimony to insane levels of wealth back in the day," says George. "For me, it was an honour to get to go on the roof - I got slightly overexcited! People will be like, 'why is he getting excited about just going on the roof?' But I love it - you get to see a different perspective of things, it's like climbing to the top of a mountain and gazing out over the land."
The other destinations in episode one are Hidcote Manor Gardens in the Cotswolds, the Rock Houses at Kinver Edge in Staffordshire, and Studland Bay on the Jurassic Coast. Upcoming episodes will include visits to Washington Old Hall in Northumberland, Snowshill Manor in Gloucestershire, Bristol's Tyntesfield Gardens, Baddesley Clinton in Warwickshire, and Ham House Gardens in Surrey.
What else do we know?
Filming during lockdown came with significant challenges for George and the small production team. "We literally had to be a fully self-contained unit," explains George. "The National Trust had to give us a dedicated toilet that nobody else had used that had been sanitised! We weren't allowed to have a cup of tea in their cups. Luckily our runner was a trained chef, so she would make our dinner at night in the place that we rented, and the next day she would make a massive packed lunch with flasks of tea and coffee!"
While George is an expert when it comes to buildings, he admits that exploring gardens in this series was definitely new territory for him. "I know absolutely nothing about gardening!" he laughs. "I think I said to Alan Titchmarsh years ago, I can't tell the difference between a rose and a daffodil. But I'm obsessed with trees and an ambassador for the Woodland Trust, so that's my saving grace!"
Steven Perkins is a Staff Writer for TV & Satellite Week, TV Times, What's On TV and whattowatch.com (opens in new tab), who has been writing about TV professionally since 2008. He was previously the TV Editor for Inside Soap before taking up his current role in 2020. He loves everything from gritty dramas to docusoaps about airports and thinks about the Eurovision Song Contest all year round.
Get the latest updates, reviews and unmissable series to watch and more!
Thank you for signing up to Whattowatch. You will receive a verification email shortly.
There was a problem. Please refresh the page and try again.