Gillian Anderson is 'content' being single: 'I don't feel anything is lacking in my life'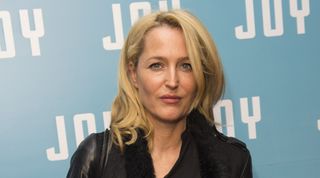 War & Peace star Gillian Anderson says she is content and does not 'sit on bar stools, pining' over being single.
The actress, who has three children and has been married twice, said she had not been in a relationship for a 'couple of years'.
In an interview with The Observer Magazine, she said: "I'm not anxious about it, nor am I interested in starting to see someone who doesn't fit. People go: 'Oh, he's so cute.' The trouble is, I'm not interested in looks at all."
Gillian Anderson (Joel Ryan/AP)
Gillian, 47, explained: "I am content. I don't feel anything is lacking in my life. I certainly don't sit on bar stools, pining. But the fact is I just haven't met anyone, and I don't know where people do meet people.
"The thing is that there are needs and there are wants. I have a list of needs and I will not compromise about those."
The actress, who stars in the BBC1's War And Peace as socialite Anna Pavlovna Scherer, has a 25-year-old daughter, Piper Maru, with her first husband, Clyde Klotz, and nine-year-old Oscar and seven-year-old Felix with her ex-boyfriend Mark Griffiths.
The cast of BBC1's War & Peace including Lily James, James Norton and Gillian Anderson (Mitch Jenkins/Kaia Zak/BBC)
She said: "I don't meet anybody! It's not like I meet people, and they ask me out, and I say no. It's not even like I meet people and I don't give them enough attention. I just don't meet them at all. I'm either on a plane, or on set, or with my children.
"There have been people in my life who've tried to set me up, and if a friend said: 'I know someone amazing', I would show up. But here's the thing: I've got three children. It's a big ask."
Gillian at the Olivier Awards (Ian West/PA)
Some critics have slammed her crime drama series, The Fall, accusing it of glamorising violence against women – but Gillian, who plays DSI Stella Gibson, dismisses the idea.
She said: "It's unfounded. It's not gratuitous in any way. Rather, it points to the fact that there is still so much violence against women in the world.
David Duchovny and Gillian Anderson will reprise their roles as FBI agents Fox Mulder and Dana Scully (Evan Agostini/AP)
"There are so many other series that are drastically more violent and gratuitous than ours, but they get less attention for it because it's in the context of, say, vampirism.
"Ours is so real, and its characters so recognisable, that it gets under the skin."
Get the latest updates, reviews and unmissable series to watch and more!
Thank you for signing up to Whattowatch. You will receive a verification email shortly.
There was a problem. Please refresh the page and try again.