Ginny & Georgia fans take sides in the mother/daughter feud
After an emotional season for Ginny, viewers weigh in on her cold behavior toward her mom.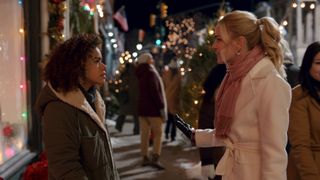 (Image credit: Netflix)
After a captivating season 2, most Ginny & Georgia fans find themselves agreeing on a number of things about the show. For starters, you'd be hard-pressed to find a loyal viewer of the series who doesn't like the good men currently in Georgia's (Brianne Howey) orbit. We're speaking of Zion (Nathan Mitchell), Paul (Scott Porter) and Joe (Raymond Ablack) of course. The show's audience may not agree on who Georgia should ultimately wind up with, but they collectively swoon over the men.
Another point of agreement seems to be that Ginny (Antonia Gentry) and Marcus (Felix Mallard) make an amazing couple. Fans appreciate the young love between the brooding and complex teenagers.
The issue season 2 viewers seem to be at odds over is Ginny's behavior. In most of the last 10 episodes, she was a thorn in Georgia's side, often being brutally cold to her, exposing her secrets and consistently lying to her face. While people could certainly sympathize with a teenager going through a mental health crisis caused by her parent's actions, many couldn't understand how Ginny was so callous given all Georgia sacrificed and did for her kids.
Georgia has literally killed to protect her children. Case and point, when the mother discovered her husband at the time, Kenny Drexel (Darryl Scheelar), was inappropriately touching her daughter, Georgia took to action and poisoned the man. While her course of action was certainly not preferred over the legal methods of handling the situation, viewers appreciated a mama bear protecting her cub.
Taking it back even further, in season 2, viewers learned about all the financial hardships Georgia went through as a teenage mother of a very young Ginny. The former worked long hours at a diner, gave up her food so Ginny could eat and argued with the electric company just to keep the lights on. She even stayed in relationships (i.e. with Gil) longer than she should have to just to make sure Ginny was fed and taken care of.
With all that said, did Georgia make some choices that she probably shouldn't have that made situations even harder? Yes. Have some of her poor decisions adversely affected her kids? Absolutely. However, several fans recognize that even with her flaws, Georgia is an exceptional mom. Plus, given her circumstances, her ends almost justify her means. They certainly don't deserve to be ridiculed by Ginny. (It's not like Ginny had one of these terrible onscreen mothers.)
Ginny & Georgia fans take sides in the mother/daughter feud
By and large, most viewers are on the Georgia train. They love the sacrifices she makes as a mother and actually appreciate her knack for being able to charm her way out of most situations. While there are a few who support Ginny's season 2 hostilities, these individuals are simply not as large in number. Check out a few of the tweets from fans.
Both seasons of Ginny & Georgia are now streaming on Netflix. Once you finish the season, get our recap of what happened in the season 2 finale.
Get the latest updates, reviews and unmissable series to watch and more!
Terrell Smith has a diverse writing background having penned material for a wide array of clients including the federal government and Bravo television personalities. When he's not writing as Terrell, he's writing under his pseudonym Tavion Scott, creating scripts for his audio drama podcasts. Terrell is a huge fan of great storytelling when it comes to television and film. Some of his favorite shows include The Crown, WandaVision, Abbot Elementary and Godfather of Harlem. And a fun fact is he's completely dialed into the TLC 90 Day Fiancé universe.
Thank you for signing up to Whattowatch. You will receive a verification email shortly.
There was a problem. Please refresh the page and try again.