Gogglebox viewers voice their concerns for the show's narrator, Caroline Aherne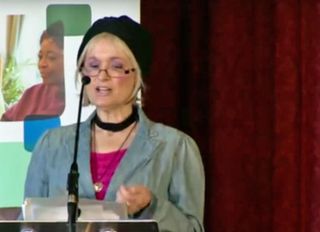 There was concern by fans over Caroline Aherne (opens in new tab)'s voice as she made her long-awaited return to Gogglebox (opens in new tab) on Friday night, following time away for cancer treatment.
The star, who is also known for her comedy roles in The Royle Family (opens in new tab) and The Mrs Merton Show (opens in new tab), sounded hoarse as she narrated the hit Channel 4 show.
Viewers took to social media to voice their fears for Caroline, reports The Sun.
A user called Deborah Woods wrote: " I do hope caroline Aherne OK. She sounds really unwell on Gogglebox (sic)."
Alastair Canaway agreed: "Hearing Caroline Aherne on Googlebox is heartbreaking."
Others commended her bravery.
@MrShaneTelford tweeted: "Fair play to Caroline Aherne. If I had cancer I'd be curled up in a ball crying. The fact she's able to work at all is fantastic.
Echoed by @Lowthaa, who wrote: "Huge respect for Caroline, the narrator of Goggle box, still doing her job while battling lung cancer."
While @jonboy701 sweetly declared Caroline's performance as his favourite thing about the show.
He said: "The most enjoyable part of Googlebox tonight was the sterling narration by Caroline Aherne."
Caroline first revealed that she was battling cancer in 2014 when she spoke at the launch of the Macmillan Cancer Improvement Partnership, a scheme to bring together hospitals, GPs, hospices and Manchester city council to co-ordinate cancer care.
She said at the time: "When you hear the doctors say you have cancer, it's true you really don't take it in properly. You just don't think of the questions."
Manchester-born Caroline, who has also had cancer of the retina and of the bladder, said having a sense of humour helped.
She was noticeably absent from the last run of Gogglebox as she took time out for hospital treatment.
During this time her writing partner Craig Cash (opens in new tab) took over the role of narrator.
Her most recent treatment was for a tumour in her lung.
Thank you for signing up to Whattowatch. You will receive a verification email shortly.
There was a problem. Please refresh the page and try again.